Bighorn River System Issues Group
Bighorn River System Issues Group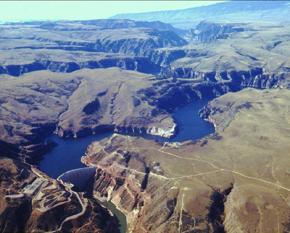 (Above) Yellowtail Dam and
Bighorn Canyon National Recreation Area.
Purpose Statement
The Bighorn River System Issues Group is formed to identify, explore, and recommend alternative courses of action to local, tribal, state, and federal entities responsible for managing the Bighorn River system resources for their consideration as part of a long-term management strategy. The challenge is to re-examine the uses and needs of the Bighorn River system to find an appropriate balance of public benefits, while recognizing the respective agencies' commitments to authorized project purposes, legal obligations, contemporary needs and public expectations.
Problem Statement
Local, state, tribal, and federal entities are concerned that the Bighorn River system is not being managed in a way that fully protects and utilizes the system's resources to address the multiple demands, needs, and expectations of the public.
Operating Criteria
Yellowtail Dam Reservoir Operations Spreadsheets
Spring 2019
Spring 2018
November 2017
April 2017
November 2016
April 2016
November 2015
April 2015
November 2014
April 2014
November 2013
April 2013
October 2012
April 2012
October 2011
March 2011
Bighorn River System Issues Group Meeting Scheduled: On Thursday, March 31, 2011, from 9:00 am until approximately 3:00 pm, Reclamation will be hosting a meeting of the Bighorn River System Issues Group at the Community Center Building in Lovell, Wyoming. One of the main topics of discussion will be the Draft Modified Operating Criteria for Yellowtail Dam and Reservoir. Your participation is most welcome and greatly appreciated.
January 2011
September 28, 2010
April 8, 2010
September 29, 2009
April 2, 2009
January 15, 2009
October 9, 2008
July 29, 2008
May 21, 2008
March 13, 2008
January 17, 2008
October 18, 2007
August 23, 2007
June 8, 2007
April 12, 2007
March 8, 2007
Supplementary Information
Last Updated: 5/24/21