Wyoming Area Office (WYAO)
705 Pendell Blvd.
Mills, WY 82644
Phone (307) 261-5671
Fax (307) 261-5683
Area Manager: Lyle Myler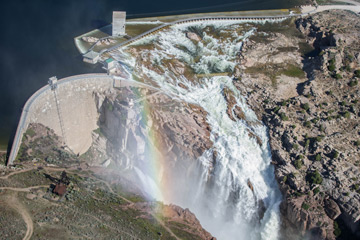 Pathfinder Reservoir Flows Over the Uncontrolled
Spillway at Pathfinder Dam, June 17, 2016.
Current News & Upcoming Events
---
Wyoming Area Office Overview
Reclamation has been involved with the conservation and development of Wyoming's water resources for more than 100 years. The Wyoming Area Office service area includes the states of Wyoming east of the Continental Divide and extends into western Nebraska.
The Wyoming Area Office in Mills, Wyoming, manages the Boysen, Glendo, Hanover-Bluff, Kortes, Owl Creek, and Riverton units of the Pick-Sloan Missouri Basin Program, the Shoshone Project in the Bighorn River Basin, and the North Platte and Kendrick Projects in the North Platte River Basin. These multipurpose projects include 20 reservoirs, 3,800 miles of canals and laterals, and 11 operating hydroelectric power plants. The collective storage capacity is more than 4.5 million acre-feet and combined installed power capacity is over 280 megawatts.
Approximately 2.8 million acre-feet of water is released annually. Water is supplied to 60 irrigation entities for irrigation of 680,000 acres of land and to 20 cities, municipalities, and companies for municipal and industrial purposes. An average of 800 gigawatt-hours of hydroelectric power generation is produced annually and supplies the needs of 73,000 households. The Wyoming Area Office manages over 500,000 acres of land for beneficial uses. Other benefits include flood control, fish and wildlife enhancement, and recreation.
A supervisory control system is provided by the Wyoming Area Office for operation of its facilities as well as providing supervisory control for Yellowtail and Canyon Ferry Power plants in Montana and six power plants of the Colorado-Big Thompson Project in Colorado.
---
Special Use Designation at Cedar Mountain
The Bureau of Reclamation, in compliance with Code of Federal Regulations 43 CFR 423.60 and 423.61, is designating the base of Cedar Mountain west of Cody as a day-use-only area to protect public health and safety, natural resources, and environmental and scenic values. This special use designation applies to Bureau of Reclamation land in Lot 24 and the N½ and N½S½ Lot 19 of Section 4, Township 52 North, Range 102 West, 6th Principal Meridian, Park County, Wyoming. Overnight camping will be prohibited, and recreational public use will be limited to day use. This day use designation will take effect on May 19th, 2023. Questions or comments can be directed to Joe Felgenhauer at 307-261-5697.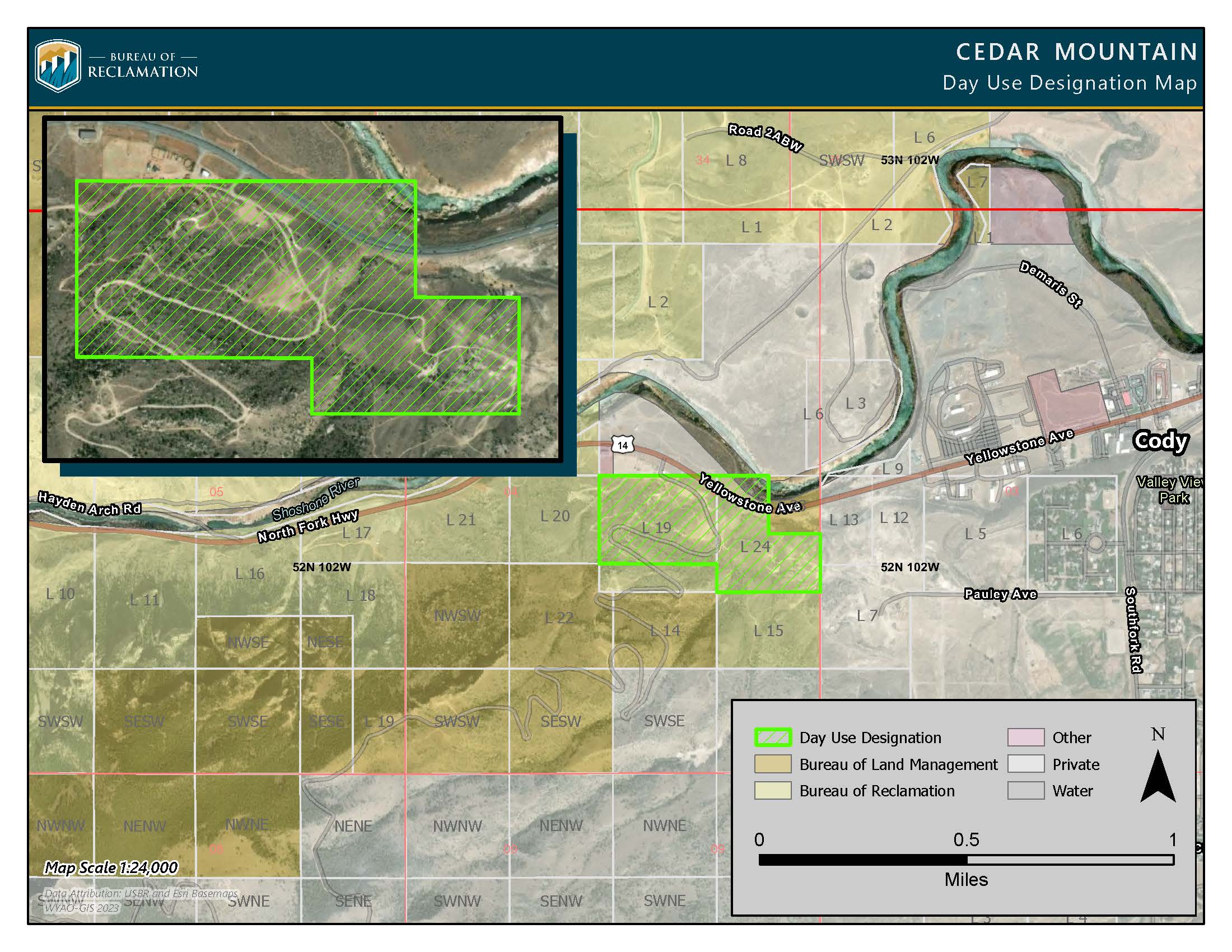 Other Links
Explore
Projects & Places
Last Updated: 5/11/23