Eastern Colorado Area Office
Eastern Colorado Area Office
11056 W. County Rd 18E
Loveland, CO 80537-9711
Phone (970) 461-5468
Fax (970) 461-5316
Area Manager: Jeff Rieker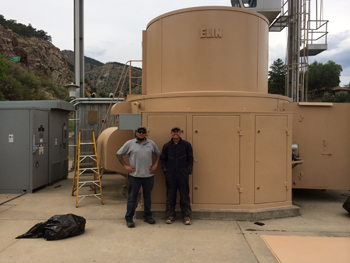 Two members of the Flatiron crew pose with the Big Thompson Power Plant shortly after repainting it. The Big T Plant was restored after flood damages last year and returned to service in July. It got a new paint job right after Labor Day.
Current News & Upcoming Events
---
Eastern Colorado Area Office Overview
The Eastern Colorado Area Office manages two large diversion projects, the Colorado-Big Thompson (C-BT) and the Fryingpan-Arkansas (Fry-Ark) as well as the Leadville Mine Drainage Tunnel and Treatment Plan which removes heavy metals resulting from mining activity before they can enter into the Arkansas River.
C-BT at a Glance:
First delivered Colorado River water to the Big Thompson in 1947
Contains 20 dams and dikes, 22 tunnels and canals: over 130 miles
Its 6 hydroelectric power plants produce 759,000,000 kilowatt hours a year
10 major reservoirs:

Lake Granby: 539,758 acre feet
Horsetooth Reservoir: 156,735 acre feet
Green Mountain: 153,639 acre feet
Carter Lake: 112,230 acre feet

On average, we divert 230,000 acre feet a year.

One acre-foot of water is 326,000 gallons, the amount of water used by two average families of four per year

The majority of the water is consumed in the late summer
Provides supplementary water to the east slope for:

30 cities and towns or roughly 925,000 people
640,000 irrigated acres
Fry-Ark at a Glance:
Finished in 1982 and enjoys Colorado's second largest hydroelectric power plant at Mt. Elbert
Contains 5 large reservoirs, 5 major dams, and 22 tunnels and other conduits covering 87 miles:

Lake Pueblo: 338,374 acre feet
Twin Lakes: 140,357 acre feet
Turquoise Lake: 129,398 acre feet
Ruedi Reservoir: 102,369 acre feet

Mt. Elbert operates as a pumped-storage power plant, meaning water is brought down to produce electricity during peak daytime demand and pumped up late at night when demand is at its lowest, using water like a battery

Mt. Elbert generates over 280,000,000 kilowatt hours a year on average

On average, we divert 56,000 acre feet a year

One acre-foot of water is 326,000 gallons, the amount of water used by two average families of four per year

Provides supplementary water to the east slope for:

12 Colorado counties, a population of over 650,000
Over 200,000 irrigated acre
---
Other Water Links
Public Involvement
Recreation
Explore
Projects & Places
Last Updated: 3/19/21