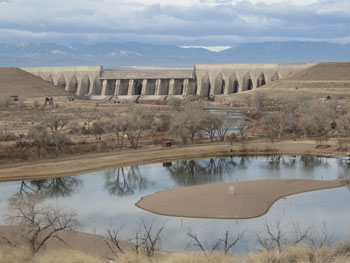 (Above) Pueblo Dam and Reservoir have entered winter operations.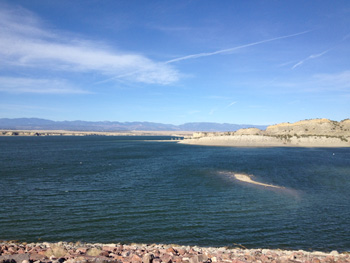 (Above) Pueblo Reservoir maintained a relatively consistent water elevation most of 2014.
Pueblo Reservoir
Current News & Upcoming Events
---
2019 Water Year in Review
The water storage content of Pueblo Reservoir was 189,469 acre-feet (elevation 4866.53 feet) on Sep. 30, 2018. The reservoir reached a high point in storage of 244,219 acre-feet (elevation 4880.12 feet) on July 2 and a low point on Oct. 29 of 185,809 (elevation 4865.53). At the end of the water year on Sep. 30, 2019 there was 194,289 acre-feet, an elevation 4867.83 feet, which is 123 percent of average.
A total of 41,801 acre-feet of native inflow was stored in the reservoir under the Pueblo Reservoir winter water storage program between Nov. 15, 2018 and March 14, 2019. This program allows agricultural entities to store native flows during the winter to be used during irrigation season. On March 15, it was distributed to agricultural entities.
To track how we and other reservoir operators are moving water down the Arkansas River throughout the year, please visit the Arkansas Headwaters Association water operations page.
Voluntary Flow Program
A total of 10,000 acre-feet of Fry-Ark Project water was made available at the beginning of the 2019 season to the Upper Arkansas Voluntary Flow Management Program (VFMP) to augment flows at the gage Arkansas River at Wellsville. No VFMP water was called for in the 2019 water year.
While the Bureau of Reclamation is not a party to the agreement between Southeastern Colorado Water Conservancy District; Colorado Parks and Wildlife; Chafee County; the Arkansas River Outfitters Association; and Trout Unlimited, project water is made available when possible to support this agreement.
Pueblo Resource Management Plan (RMP)
In February 2014, Reclamation and Colorado Parks & Wildlife closed the first public comment period on the revision of the Lake Pueblo State Park Resource Management Plan.
The Pueblo Reservoir Resource Management Plan (Pueblo Reservoir RMP) replaces the 1981 RMP to address current and future resources needs identified during the RMP planning process from 2014 through 2019. Major components of the adopted RMP include addressing recreational uses, mountain biking, and unauthorized trails. As part of the RMP, Reclamation incorporated the 2019 Trail Management Plan developed by CPW to address ongoing impacts associated with unauthorized trails in the RMP planning area.
Reclamation prepared a Final Environmental Assessment (EA) and Finding of No Significant Impact (FONSI) for the Pueblo Reservoir Resource Management Plan.
Last Updated: 1/15/21