Leadville Mine Drainage Tunnel and Treatment Plant Information
Leadville Mine Drainage Tunnel and Treatment Plant Information
Overview
Since 1991, the Leadville Mine Drainage Tunnel Treatment Plant (LMDT) has removed lead, zinc, manganese, iron, and other heavy metals from contaminated water that flows from the 2-mile-long Leadville Mine Drainage Tunnel. The plant sends 650 million gallons per year of treated, clean water to the headwaters of the Arkansas River in accordance with Environmental Protection Agency (EPA) guidelines.
After two decades of collaborative ecosystem restoration by EPA, Reclamation, USGS, Newmont and other state, federal and local partners, the Arkansas Headwaters was named a Gold Medal Trout Stream in 2014.
History
The U.S. Bureau of Mines (USBM) began building the LMDT during World War II to drain groundwater from the mine workings via the tunnel in order to access mineral reserves. Construction ended in 1945.
Metal demands during the Korean conflict provided incentive for a second project to extend the tunnel. Construction was completed in 1952.
In 1959, Reclamation secured title to the LMDT from the USBM with the intent to use the tunnel water as part of the water supply for the Fryingpan-Arkansas Water Project; however, water rights conflicts prevented that use.
Water leaving the tunnel contains high concentrations of metals, such as zinc, iron and cadmium, that can harm the Arkansas River and its aquatic life. As owner of the tunnel, Reclamation removes these pollutants.
Since commissioning the Treatment Plant in 1992, Arkansas River water quality has improved substantially, enabling the recovery of fish and other aquatic life.
The tunnel is long, stretching southeast under the Town of Leadville and into an area of the Environmental Protection Agency's California Gulch Superfund Site known as Operable Unit 6.
Safety
Throughout its history, Reclamation has performed monitoring and safety studies on the LMDT. The most recent study, completed in the fall of 2008, concluded that the LMDT continues to operate safely. A Community Safety Plan helps nearby households be prepared in case of an emergency at the plant.
Map of Tunnel and Surrounding Area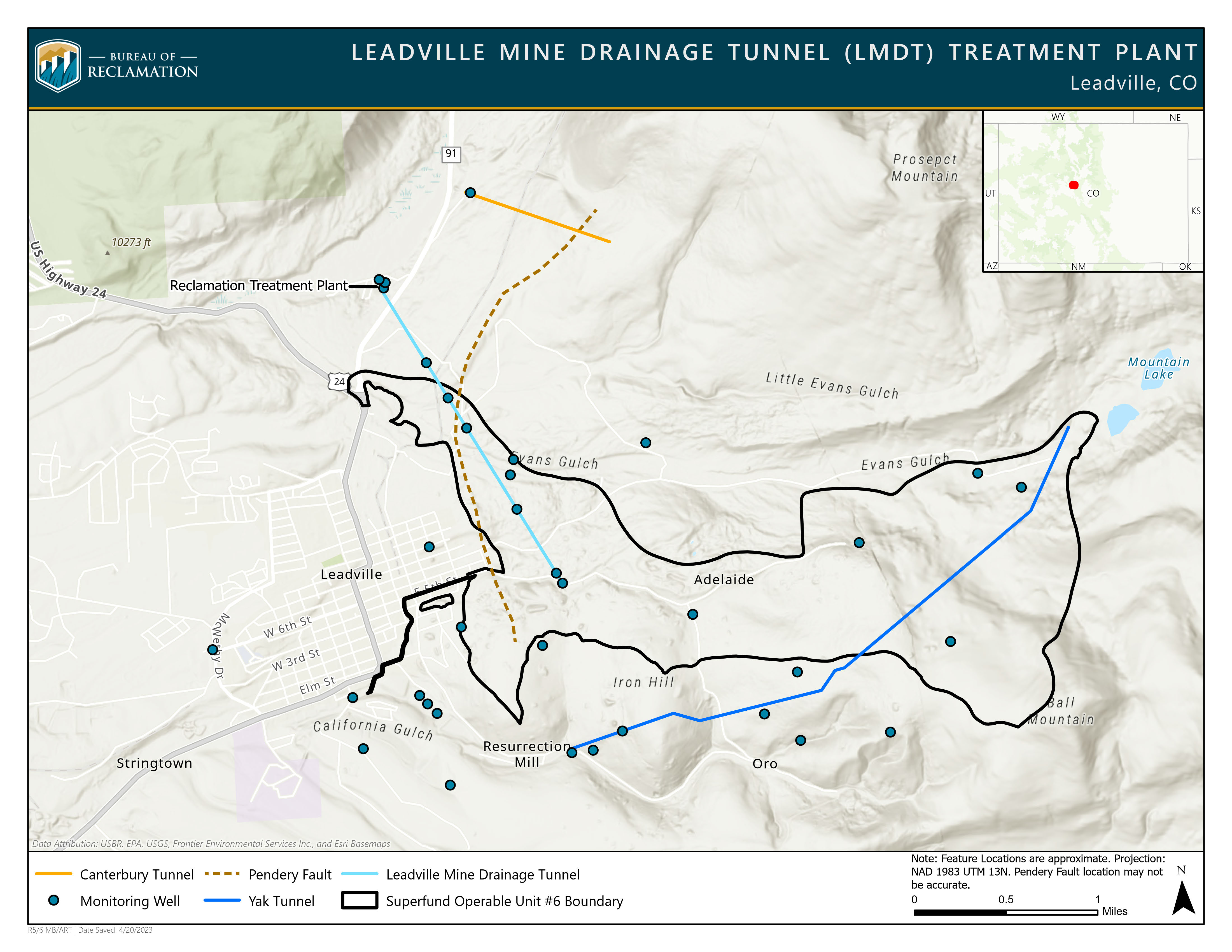 Looking Ahead
At present, LMDT has reached its expected service life of roughly 30 years. Over the next several years, Reclamation will build a new treatment plant with a longer life expectancy and room for growth. Plant designs will incorporate lessons learned over previous decades, emphasize safety, and improve the plant's visual impact.
Final design, early site preparatory work and purchase of major treatment process equipment components is complete. Acquisition and procurement activities for the new WTP are underway. The replacement WTP will bring the facility into compliance with current codes to ensure safety of WTP personnel and the public, will improve and extend plant operations, and will ensure ongoing compliance with the EPA's National Pollutant Discharge Elimination System (NPDES) permit.
Reclamation is fully committed to ensuring that the Leadville Mine Drainage Tunnel Treatment Plant will continue to treat the water from the LMDT and maintain a long-term, on-going commitment to mitigate groundwater contamination and release clean water to the Arkansas River headwaters.
Last Updated: 5/4/23