Horsetooth and Carter Lake Reservoirs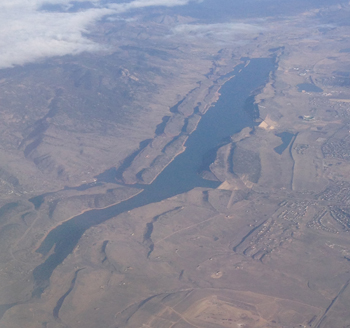 (Above) Horsetooth's water level elevation has been well over 5400 feet, or at least 80% full, since March 2014.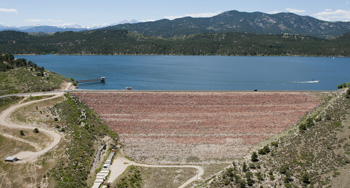 (Above) Carter Lake filled at least three separate times during the 2013-2014 water year due to an unusually abundant water supply from rain and snow.
Horsetooth and Carter Lake Reservoirs
Current News & Upcoming Events
---
Project Operations
Horsetooth and Carter Lake reservoirs are both part of the Colorado-Big Thompson Project.
Before reaching Horsetooth and Carter, C-BT water comes under the Continental Divide via the Adams Tunnel. Once in Estes Park, it is used to generate hydro-electric power at the Marys and Estes power plants. From Estes, water can either be released down the Big Thompson Canyon, or continue through the C-BT's southern power arm, generating power at three more plants: Flatiron, Pole Hill and Big Thompson.
As it moves through the power system, C-BT also moves through four other reservoirs. Water levels are about average for this time of year at Lake Estes, Marys Lake, Pinewood, and Flatiron reservoirs.
Last Updated: 9/8/21