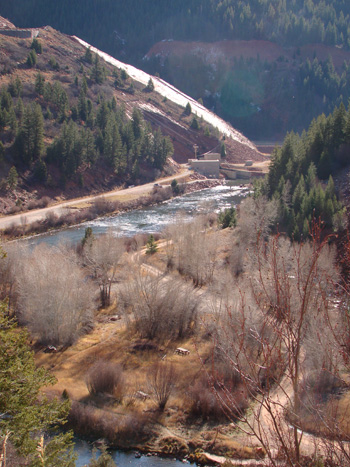 (Above) It was a lovely fall season along the Fryingpan River below Ruedi Dam.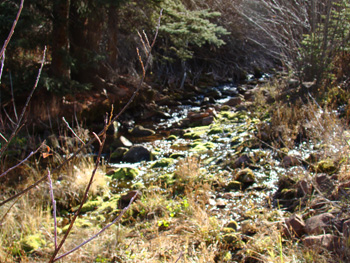 (Above) In fall and winter, native flows down tributaries like the Rocky Fork, slow down considerably.
Ruedi Reservoir
Current News & Upcoming Events
---
Ruedi Reservoir has moved into winter operations. Releases from the dam to the Fryingpan River are around 100 cfs and are expected to stay near that rate through January 2015.
The reservoir itself is slowly going down, preparing for spring snowmelt runoff. Runoff typically occurs in late May or early June. That is when Reclamation fills Ruedi Reservoir. Track Ruedi's water level by using Reclamation's "tea cup" page for Ruedi Dam.
Ruedi is part of the Fryingpan-Arkansas federal water and hydro-power project. The purpose of Ruedi Reservoir is to compensate people of Colorado's West Slope for water from the Fryingpan River diverted further upstream from the Fryingpan, under the Continental Divide, to Colorado's East Slope.
Storage levels in the reservoir allow for up to 102,000 acre-feet of water. Most years, Ruedi is full or very close to full by the end of May. Water is then released from the reservoir to the river throughout the spring, summer and autumn months.
All water stored in Ruedi is for West Slope use. Ruedi water contractors use the water for municipal and irrigation benefits, but the reservoir also regulates some water for recreation and fish and wildlife enhancement.
Links to Additional Information
Many of our customers have asked about the status of the weather station atop Ruedi Dam and the web page to which it is linked that broadcasts the data the station collects. Unfortunately, the station is still down. We have several technical issues to resolve at the station. We are hoping to update the weather station in the new year, but a schedule for that maintenance has not yet been developed.
The USGS page for streamflow below Ruedi Dam provides up-to-date information for water released to the lower Fryingpan in cubic-feet-per-second measurements.
Information on Ruedi Reservoir and releases to the Fryingpan River can also be obtained by joining the e-mail notification list. To join the list, please contact Signe Snortland.
For even more readily accessible information about Ruedi Reservoir, like its page on Facebook.
Last Updated: 7/16/20