Western Colorado Area Office
Western Colorado Area Office
The Western Colorado Area Office consists of two offices, located in Grand Junction and Durango, and several field offices with projects encompassing western Colorado, northwestern New Mexico, and northeastern Arizona. The office is responsible for Reclamation projects and program activities in the Upper Colorado, Gunnison, Yampa, White, Dolores, Uncompahgre, Animas, and San Juan river basins and works with the Ute Mountain Ute Tribe, Southern Ute Indian Tribe, Jicarilla Apache Nation, and Navajo Nation, as well as numerous water user organizations.
---
News and Highlights
Public Comment period opens – July 3, 2020
Proposed Special Use Area Silt Pumping Plant Parcel, Silt Project, Colorado
The US Bureau of Reclamation, Western Colorado Area Office is considering the designation of a Special Use Area pursuant to 43 CFR 423 Public Conduct on Bureau of Reclamation Facilities, Lands and Waterbodies, Subpart E. The area being considered for this designation consists of approximately 41 acres of land between the Colorado River and the River Frontage Road, just south of I-70 and approximately 1.3 miles east of the Silt Interchange (See Figure 1). This land was acquired by Reclamation for siting of the Silt Pumping Plant and other project features.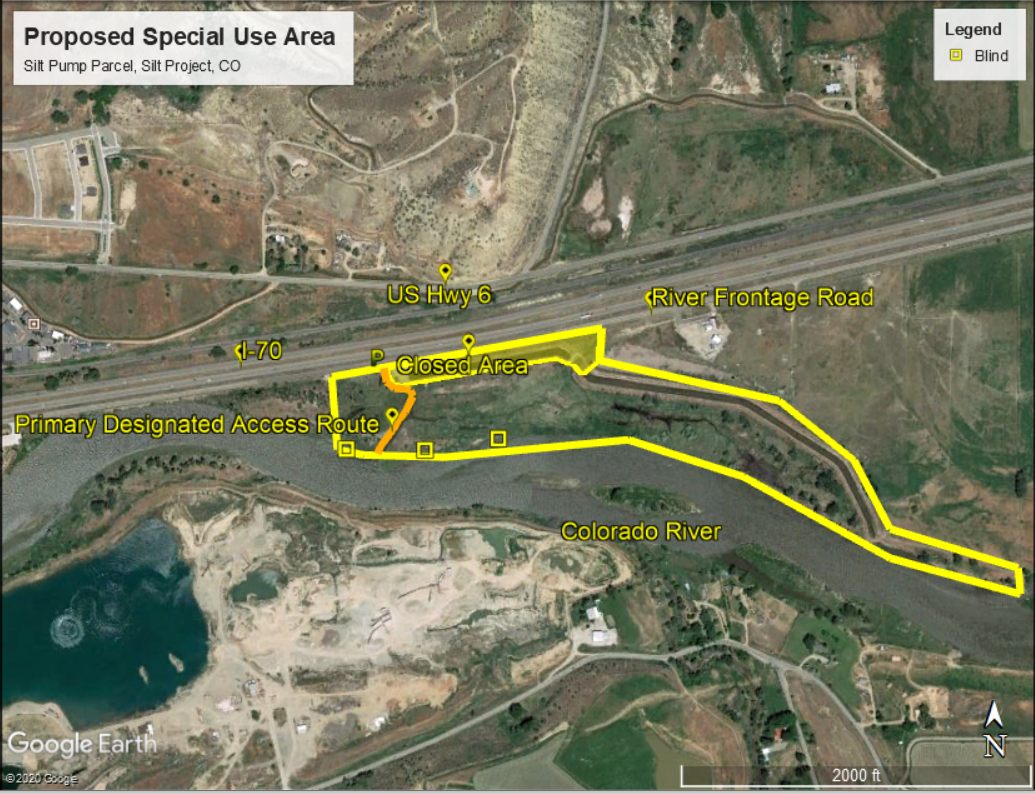 The proposed designation would provide for continued public use of the Silt Pumping Plant Parcel in compliance with 43 CFR Part 423, Subpart C, except as restricted by the following proposed Special Use Area limitations:
Public use will be limited to the following fish and wildlife-related recreational use: river fishing, waterfowl hunting and wildlife viewing.
No camping or other overnight use, except fishing.
Pedestrian use only: no vehicles, horses, bicycles, or off-road vehicles allowed.
No open fires, smoking, or fireworks.
No firearms allowed, except for waterfowl hunting.
No hunting, except for waterfowl hunting. All waterfowl hunting shall be from the three CPW provided blinds on a first come, first served basis. No more than four hunters allowed per blind.
No trash dumping. All trash must be packed out and disposed of properly.
Operation of model aircraft, including drones, over the property is prohibited.
Dogs are prohibited, except as an aid in waterfowl hunting. Waterfowl hunters are responsible for the proper removal and disposal of their dog's waste.
Users are responsible for proper collection, removal and disposal of their own waste. Users shall use wag bags or other acceptable human waste collection/removal systems.
Public access to the parcel will only be from a small vehicle pull off area located on the River Frontage Road, just west of the property access gate.
A primary access route from the vehicle pull-off to near the riverbank will be delineated and marked, however, it's use is not mandatory.
Appropriate signage will be installed at the pull off area to notify users of these restrictions.
The area closed to public use will be posted and delineated through a combination of fencing, locked gates, and posting of signs and notices at conspicuous and reasonable locations along the boundary of the closed area.
This action is being considered due, in part, to issues raised in 2017 regarding waterfowl hunting on the property. The parcel has been closed to hunting since 2017, pending a review of such use. The Colorado Parks and Wildlife Department would like the parcel to remain open to waterfowl hunting and has worked with Reclamation to develop the proposed action.
Comment Period
We would like your input on the proposed action. Written comments will be accepted for a period of 30 calendar days, beginning July 3, 2020 and ending August 1, 2020. Comments should be sent to the attention of Alan Schroeder at:
Bureau of Reclamation
Western Colorado Area Office
445 West Gunnison Ave., Ste. 221
Grand Junction, CO 81501
(970) 248-0601
aschroeder@usbr.gov
---
News Release – January 31, 2020

GRAND JUNCTION, Colo. – The Bureau of Reclamation is extending the public comment period on a draft Environmental Impact Statement that analyzes alternatives to reduce salinity in the Colorado River from sources in the Paradox Valley in western Colorado. The public comment period now closes February 19, 2020. Read More
Last Updated: 6/29/20