Aspinall Unit Reservoirs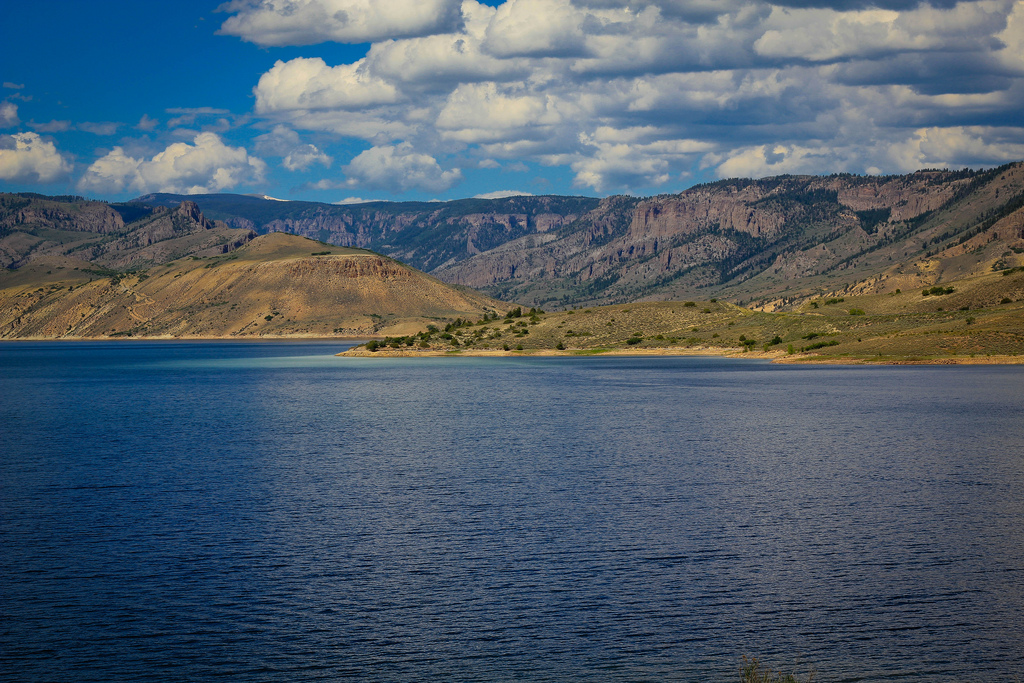 Current Status
(Last Updated: January 23, 2019)
Aspinall Unit Reservoirs – As of January 10, 2019 releases from Crystal Dam are approximately 345 cfs. Uncompahgre Valley Water Users Association has stopped diversions through the Gunnison Tunnel except for periodic diversions to fill Fairview Reservoir.  Flows through the Black Canyon are approximately 325 cfs. There is currently about a 20 cfs loss to the Gunnison River between Crystal Dam and the Gunnison Tunnel Diversion.  As of January 10, 2019, Blue Mesa Reservoir elevation is 7438.02 feet which corresponds to storage content of 249,785 af (30 percent of capacity).
The December unregulated inflow to Blue Mesa Reservoir was 19,500 af (75 percent of average). Unregulated Inflows to Blue Mesa for the next three months (January, February and March) are projected to be: 16,000 af (67 percent of average), 14,000 af (64 percent of average) and 25,000 af (69 percent of average), respectively. For water year 2019, the unregulated inflow volume is forecasted to be 697,900 af (73 percent of average) with 500,000 af (74 percent of average) of unregulated inflow occurring during the April through July period. The December 24-Month Study is reflective of this new forecast. 
Conditions are clearly very dry.  Blue Mesa Reservoir did not fill in water year 2018 and will most likely not fill in water year 2019 either.  Current projections indicate Blue Mesa storage will remain near the current level till March of 2019 before rebounding during the spring runoff.  Current projections indicate Blue Mesa is at or near its low elevation for this year. The peak elevation for this water year will occur in or around late July when the elevation is projected to be 7475 feet. The projected end of water year 2019 elevation of Blue Mesa is 7467.15 feet which corresponds to a live storage content of 423,000 acre-feet (49 percent of full capacity).
The Aspinall Unit Working Group is an open public forum for information exchange between Reclamation and the stakeholders of the Aspinall Unit. The public is encouraged to attend and comments on the operations and plans presented by Reclamation at these meetings. Meeting notes from past working Group meetings are posted on the Working Group webpage. For more information on this group and these meetings please contact Erik Knight in the Grand Junction Area Office at (970) 248-0629.
Meeting notes from past working Group meetings are posted on the Working Group webpage at:
https://www.usbr.gov/uc/wcao/water/rsvrs/mtgs/amcurrnt.html
The next meeting of the Aspinall Unit Working Group will be held on Tuesday, April 23rd, 2019 at 1:00 pm at the Western Colorado Area Office located at 445 West Gunnison Avenue in Grand Junction, Colorado.
To view the most current reservoir elevation, content, inflow and release, click on: Blue Mesa Reservoir Data or Crystal Reservoir Data. To view minutes from the last Aspinall meeting, click on:Meeting Notes.
Additional Information
Contact

Please contact the Operations Group via e-mail at ResourceMgr@usbr.gov for additional information.
Last Updated: 1/23/19