Upper Colorado Basin at a Glance
One of five regional offices, Reclamation's Upper Colorado Region—headquartered in Salt Lake City, Utah—encompasses Utah and New Mexico, western Colorado, northeastern Arizona, southwestern Wyoming, west Texas, and small portions of Nevada and Idaho. There are four area offices located in the region, which are listed below.
---
Navigation Map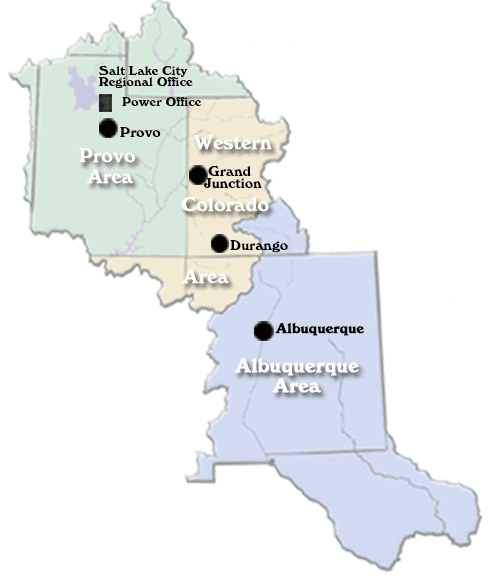 The Albuquerque Area Office is one of the largest in Reclamation reaching from the Alamosa area of southern Colorado through most of New Mexico and into west Texas. Staff here manage delivery of water on the Rio Grande, Rio Chama, Pecos, and Canadian rivers from the main office in Albuquerque and six field offices in Alamosa, Colorado; Alamogordo, Chama, Elephant Butte, and Socorro, New Mexico; and El Paso, Texas. This office is also responsible for overseeing the management of nine major dams with a combined reservoir storage capacity of more than 3.5 million acre-feet that supply water for more than 439,000 acres of irrigated land and several municipal drinking water projects. They also oversee hydropower production at Elephant Butte Dam, and research and testing at the Brackish Groundwater National Desalination and Research Facility.
The Upper Colorado Region's Power Office, located in Salt Lake City, Utah, oversees three field offices associated with the Colorado River Storage Project hydroelectric power generation facilities: the Glen Canyon Field Division located in Page, Arizona; the Curecanti Field Division in Montrose, Colorado; and the Flaming Gorge Field Division in Dutch John, Utah.
Power Office employees are responsible for operating and maintaining the CRSP hydroelectric powerplants and dams, which include Flaming Gorge on the Green River near Dutch John, Utah; Blue Mesa, Morrow Point, and Crystal on the Gunnison River near Montrose, Colorado; and Glen Canyon on the Colorado River near Page, Arizona. The Power Office also operates and maintains facilities at other Reclamation projects including Fontenelle Dam and powerplant on the Green River near Kemmerer, Wyoming, and the Upper and Lower Molina powerplants near Grand Junction, Colorado. In addition, the Power Office is responsible for ensuring the structural safety and security of all of these powerplants and dams.
Reclamation's Provo Area office is located 44 miles south of Salt Lake City, Utah on the southern end of the City of Provo. The Provo Area Office's boundary of responsibility includes the State of Utah, southwestern Wyoming, and small sections of Idaho and Nevada. Within these states, the Provo Area Office is responsible for 17 separate water projects that have authorized the construction of 27 major and 34 minor dams, approximately 419 miles of canals, 613 miles of laterals, 57 miles of tunnels, 132 miles of pipelines, six powerplants, and 14 pumping stations. As part of these projects the Provo Area Office also oversees 1,063,666 acres of acquired fee title, withdrawn, and easement lands.
These projects provide irrigation water to over 400,000 acres of crop land each year and provide water to nearly 1.5 million people. The projects also provide significant flood control and power generation benefits, 50 miles of "class 1" stream fisheries — 75 percent of the total in the state of Utah — and over two million visitor days of recreation each year.
The Western Colorado Area Office consists of two offices, located in Grand Junction and Durango, and several field offices with projects encompassing western Colorado, northwestern New Mexico, and northeastern Arizona. The office is responsible for Reclamation projects and program activities in the Upper Colorado, Gunnison, Yampa, White, Dolores, Uncompahgre, Animas, and San Juan river basins and works with the Ute Mountain Ute Tribe, Southern Ute Indian Tribe, Jicarilla Apache Nation, and Navajo Nation, as well as numerous water user organizations.
Last Updated: 2/18/20