Yuma Area Office
Welcome to the Bureau of Reclamation's Yuma Area Office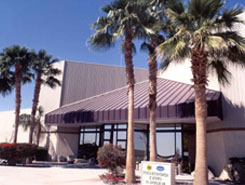 Yuma Area Office Headquarters
Contact us: 

Yuma Area Office
7301 Calle Agua Salada
Yuma, AZ 85364
Phone: 800-433-8464 or 928-343-8100

Reclamation's Yuma Area Office is located 5 miles west of Yuma, Arizona. Our office is responsible for scheduling Colorado River water deliveries in Arizona, California, and Mexico serving over 750,000 people and more than 1 million acres of commercial agriculture.
We manage the Colorado River from Davis Dam to the border with Mexico. Our office also operates and maintains large-scale well fields to help maintain water tables near the Yuma area. We are also home to the Yuma Desalting Plant, one of the world's largest reverse osmosis desalination plants.
We participate in water conservation outreach and demonstration projects with local irrigation districts and Native American tribes. We also conduct advanced water treatment research at our state-of-the-art research center.
Stories & Media
---
---
For Telecommunications Relay Services (TRS) Dial: 711
Webmaster:  sha-YAO-WebComments@usbr.gov