Yuma Area Office
Facilities
Yuma Desalting Plant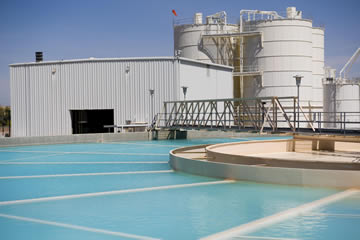 Pictured is one of three large solid contact reactors at the Yuma Desalting Plant.
The Yuma Desalting Plant was constructed under authority of the Colorado River Basin Salinity Control Act of 1974 to treat saline agricultural return flows from the Wellton-Mohawk Irrigation and Drainage District.  The treated water is intended for inclusion in water deliveries to Mexico thereby preserving the like amount of water in Lake Mead.  Construction of the plant was completed in 1992 and it has operated on two occasions since then.  The plant has been maintained, but largely not operated due to surplus and then normal water supply conditions on the Colorado River.
A state-of-the-art advanced water treatment research center is also located at the Yuma Area Office.  The Water Quality Improvement Center (WQIC) is one of six National Centers for Water Treatment Technologies and the only center focused on inland brackish water, both surface and groundwater.  Research is conducted by Reclamation and in partnership with academia, state and local governments, and the private sector.  The Yuma Area Office also includes an analytical lab which is licensed by the State of Arizona.  The lab analyzes water samples for the Colorado River, well fields, and the WQIC.
In recent years, however, steady increases in water demand on the lower Colorado River coupled with the effects of a prolonged drought over the entire Colorado River Basin have prompted continued interest in plant operation.
In 2007, Reclamation completed a Demonstration Run of the plant.  The results of the run and historical assessments of the YDP include:
In 2009, Reclamation developed a plan for a Pilot Run of the plant, as described in the project's Environmental Assessment. The Pilot Run is being funded by a consortium of municipal utilities which signed and finalized aFunding Agreement on October 29, 2009.
In 2012, Reclamation completed the YDP Pilot Run Final Report.
For Telecommunications Relay Services (TRS) Dial: 711
Webmaster:  sha-YAO-WebComments@usbr.gov