Yuma Area Office
Facilities
Yuma Desalting Plant History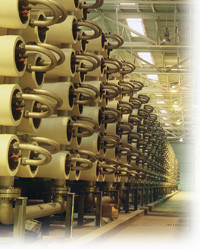 Reverse Osmosis Pressure Vessels
In accordance with a 1944 treaty between the United States and Mexico, the United States is obligated to deliver 1,500,000 acre feet of Colorado River water to Mexico each year. During the 1960s, the quality of the water delivered to Mexico became so poor that Mexico filed a formal protest. A special commission on Colorado River quality was established in 1973, headed by former Ambassador Herbert Brownell.
As a result, Minute No. 242 (Minute) of the International Boundary and Water Commission was adopted. The Minute requires the United States to ensure that water arriving at Morelos Dam has an average annual salinity of no more than 115 (+/- 30) parts per million (ppm) over the average annual salinity of water arriving at Imperial Dam. The Yuma Desalting Plant was conceived by the United States as a permanent solution to meet the provisions of the Minute.
Construction of the Yuma Desalting Plant was completed under theColorado River Basin Salinity Control Project as authorized by Public Law 933-20, Title I, signed June 24, 1974 (as amended by Public Law 96-336).
Construction began in 1975 and ended in 1992. Title II of the same act provides for salinity control projects elsewhere in the Colorado River Basin (which includes the Upper and Lower Basins).
The purpose of the Yuma Desalting Plant is to save water for beneficial use while desalting sufficient drainage returns from the Wellton-Mohawk Irrigation and Drainage District in Arizona, in order to maintain salinity levels at Morelos Dam as specified by the Minute.
Since the desalting plant's construction, conditions on the Colorado River have changed. High flow conditions have improved the quality of the water arriving at Imperial and Morelos Dams. During these years of above normal flows in the Colorado River, drainage water not necessary to meet the water quality requirement of Minute 242 is allowed to bypass the YDP.
For Telecommunications Relay Services (TRS) Dial: 711
Webmaster:  sha-YAO-WebComments@usbr.gov