Clark Canyon Reservoir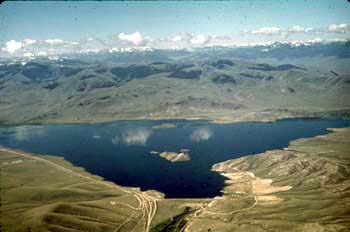 Aerial View of Clark Canyon Reservoir
Welcome to the homepage for Clark Canyon Reservoir. This site provides links and information related to Clark Canyon, and is managed by the Missouri Basin and Arkansas-Rio Grande-Texas Gulf Regions' Montana Area Office. Contact Information:
Bureau of Reclamation
Clark Canyon Field Office
1200 Hwy 41
Dillon, MT 59725
(406) 683-6472
Clark Canyon Dam is constructed at the head of the Beaverhead River. Clark Canyon Reservoir is the site of Camp Fortunate, one of the more significant spots along the Lewis and Clark Trail. It was at Camp Fortunate that the Lewis and Clark expedition met the Lemhi Shoshoni Tribe, and cached their canoes and a stash of supplies for the return trip. Sacagawea was reunited with her people here.
Upcoming Events and Current News:
Last Updated: 3/16/23