Yuma Area Office
Facilities
The Water Quality Improvement Center
Research Capabilities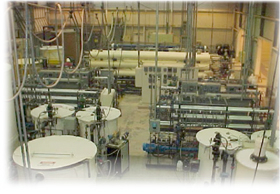 Overview and layout of the WQIC


The Water Quality Improvement Center (WQIC) is a full-service, operational water research center. It consists of a 12,000 square-foot building with three complete test trains and multiple stand alone test devices. It serves as a field site to investigate new and improved water treatment technologies, including pretreatment associated with desalination.
The following services are available at the WQIC:
Engineering and technical staff with expertise in water treatment processes and instrumentation, including services relating to computer control and data acquisition

Experienced operations and maintenance staff, with operations occurring on a 24/7 basis

Fully staffed and licensed State of Arizona environmental laboratory that can conduct drinking water and waste water analyses, bacteriological analyses, and analyses of major inorganic constituents of water

Fully equipped office facilities

A variety of feedwaters available for use in tests
The WQIC consists of a research center, an environmental laboratory, and a mobile research facility. The research center contains multiple portable test units and can house partner-supplied testing units as well.
The WQIC Research Center - Equipment

The WQIC Research Facilities
On-Site Water/Environmental Lab - The WQIC water laboratory, licensed by the Arizona Department of Health Services for drinking water and wastewater inorganic analyses, serves in-house and partnered research project needs.

Mobile Research Facility - The mobile research facility is a refrigerated trailer that contains testing equipment. It can be sited at remote locations for testing of site-specific waters.

For more information about the Research Facilities at the Water Quality Improvement Center, contact Angela Adams, Desalting Group, through email or by phone at 928-343-8114.
For Telecommunications Relay Services (TRS) Dial: 711
Webmaster:  sha-YAO-WebComments@usbr.gov