Yuma Area Office
Facilities
The Water Quality Improvement Center
Research Programs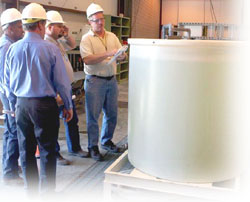 Partnered Research 
Under the authority provided by the Technology Transfer legislation, Reclamation engages in partnered research projects to benefit both the agency and its partners. Since its inception in 1997, the Water Quality Improvement Center (WQIC) has entered 24 partnered projects and leveraged more than $1.5 million in external research funds.
The goals of the partnered research program are to evaluate and identify desalting technologies for possible application at the Yuma Desalting Plant, advance the state of water treatment technology, reduce the costs to treat impaired waters, and reduce the cost of operating the YDP.
Previous project partners include:
Arizona State University
Olivenhain Municipal Water District
EKA Chemicals, Hydranautics, Inc.
Metropolitan Water District of Southern California
City of Somerton, AZ
Zenon, Inc.
Typically, partnered projects are conducted via Cooperative Research & Development Agreements (CRADA).
In House Research
In-house research is authorized under the Colorado River Basin Salinity Control Act, Title I.
Current Research
For Telecommunications Relay Services (TRS) Dial: 711
Webmaster:  sha-YAO-WebComments@usbr.gov