Yuma Area Office
Facilities
Warren H. Brock Storage Reservoir

Aerial view of Brock Reservoir
As western water supply challenges become more complex, efforts to increase the efficiency of delivery takes on increased importance.  The challenges presented – when lower Colorado River flows exceed users' demands below Imperial Dam during the five-day period it takes to deliver water from Lake Mead – are particularly acute and can result each year in excess water flowing into Mexico.
Water users in the lower Colorado River region cannot fully utilize water orders for numerous reasons, including unexpected canal outages, changed weather conditions and high runoff into the river.  To respond more effectively to the changing conditions, Reclamation and stakeholders in Nevada, Arizona, and California collaboratively constructed the new Drop 2 Storage Reservoir.  Later officially renamed the Warren H. Brock Storage Reservoir, the facility is located 25 miles west of Yuma, Arizona near the All-American Canal.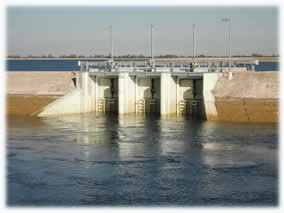 Slide gates separating the fore bay and reservoir cells
Brock Reservoir provides space for incoming river water from underutilized orders to be diverted at a turnout structure on the All-American Canal and through a 6 ½ mile inlet canal into the new reservoir.  The Imperial Irrigation District (IID) then releases the water to users through a ¼ mile canal and siphon system to fill subsequent orders.  The new reservoir allows Reclamation to capture water when supply is excess of demand, and conserve water in Lake Mead as orders for subsequent days are fulfilled from reservoir storage.  Annual water savings from this new facility are anticipated to be approximately 70,000 acre-feet.
The budgeted cost for the Warren H. Brock Reservoir was $172 million.  Southern Nevada Water Authority (SNWA) contributed $115 million, and Metropolitan Water District of Southern California (MWD) and the Central Arizona Project (CAP) each contributed $28.6 million.  In return for their investment in water conservation, Nevada will receive 400,000 acre-feet from Lake Mead at a maximum of 40,000 acre-feet per year until 2036.  California and Arizona each receives 100,000 acre-feet at a maximum of 65,000 acre-feet per year between 2016 and 2036.
Construction began in October 2008 and was completed in September 2010.  Approximately seven million cubic yards of soil were removed to construct the project and the resulting reservoir pool and sides were covered with 1,800 rolls of geomembrane lining to prevent seepage.  Following installation of the membrane, the bottom of the reservoir and sides were then covered with nine inches of soil cement.  The reservoir is comprised of two storage cells of equal size, is capable of storing 8,000 acre-feet and can be filled in about three days.  Excavated material was primarily used to construct canal and reservoir embankments, resulting in very little wasted material.
For Telecommunications Relay Services (TRS) Dial: 711
Webmaster:  sha-YAO-WebComments@usbr.gov