Updates & News Stories
March 17, 2022
Klamath Project Updates

A Canal Headworks

The Klamath Basin is experiencing a third year of consecutive drought conditions that it has not experienced since the 1930s. Reclamation anticipates being able to provide some water this irrigation season as well as funding to offset the challenges of dry conditions. Separately, Reclamation is working on a team led by the Department of the Interior to bring needed investments in restoration and ageing infrastructure projects. These investments are hoped to assist in providing long-term solutions for the basin.
Additional updates for the Klamath Project:
Delayed Diversions
On March 1, Reclamation notified water users to expect a delay in beginning Klamath Project operations during the 2022 irrigation season due to severe dry conditions and to withhold diversions of water from Upper Klamath Lake and the Klamath River until further notice.
Allocation Announcement
Reclamation anticipates an allocation for the Klamath Project in 2022 and is working with regulatory agencies to determine the available water supply based on hydrologic conditions, biological conditions, and regulatory requirements. Reclamation anticipates announcing the 2022 Klamath Project water allocation by April 8, after receiving April 1 inflow forecast data.
A Canal Operations
In preparation for the 2022 irrigation season, Reclamation is also monitoring the Klamath Irrigation District's (KID) efforts to prime the A Canal. On March 1, KID began slowly priming the canal in anticipation of the irrigation season. Due to drought, last year the A Canal remained dewatered. To ensure the A Canal remains structurally safe, a thorough inspection was conducted in early February, and a slower than usual water-up process will occur over the course of approximately 6 weeks, compared to 2 weeks that is normally required to prime the canal for deliveries. Regular inspections will be performed to maintain the safety of urbanized portions of the canal that run through downtown Klamath Falls and adjoining neighborhoods. The estimated water needed for priming is 1,000-2,000 acre feet, most of which could be returned to the Klamath River if needed.
Coordination with the Services
Due to dry conditions, in February, Reclamation began early coordination with the U.S. Fish and Wildlife Service and the National Marine Fisheries Service to discuss meeting Upper Klamath Lake and Klamath River elevation and flow minimums outlined in their biological opinions. An Operations Plan and Drought Plan are expected to be released in April, once a final determination can be made regarding 2022 Klamath Project allocations are made.
Restoration Funding
During 2022 Reclamation will fund approximately $1,409,500 of local and regional on-the-ground efforts that improve degraded habitat and enhance the survival and recovery of natural populations of Southern Oregon and Northern California Coast (SONCC) coho salmon (Oncorhynchus kisutch). From 2022 through 2024 National Fish and Wildlife Foundation will administer a competitive grant program set to spend $2.7 million to directly benefit SONCC coho salmon in the Klamath River Basin. In operating the Klamath Project, located in the upper Klamath Basin, Reclamation is required by the National Marine Fisheries Services to protect critical habitat for and populations of SONCC coho salmon in the Klamath River Basin, as they are listed as a threatened species under the federal Endangered Species Act. Pre-proposals are due March 28, for more information visit https://www.nfwf.org/programs/bureau-reclamation-klamath-coho-habitat-restoration-program.
Hydrologic Updates
Starting in December 2021, Reclamation began hosting monthly forecasting meetings to keep water users and Tribes about drought conditions in advance of the 2022 season. These forecasting meetings will likely continue through June and monthly hydrologic updates are posted on the Klamath Basin Area Office homepage https://www.usbr.gov/mp/kbao; the March 10 update is now available. Weekly Twitter hydrologic updates for the Klamath Basin are posted @ReclamationCGB.
Check back for additional operations updates and news stories about the ongoing work and activities of our local Reclamation Team who serve Klamath Basin communities.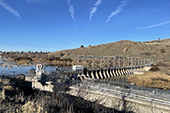 Our local Reclamation team is working to determine available water supply based on reservoir levels, inflows, snowpack and anticipated hydrological conditions for 2022 Klamath Project Operations.(READ MORE →)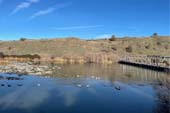 Reclamation, effective December 1, 2021, will be increasing flows through Link River Dam to initiate refilling of PacifiCorp's Copco and Iron Gate reservoirs.
In August 2021, Reclamation, in coordination with the U.S. Fish and Wildlife Service and along with support from Tulelake Irrigation District, took action to prevent a wildlife die-off in Tule Lake National Wildlife Refuge. (READ MORE →)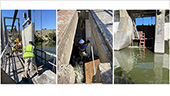 Reclamation's Klamath Basin Area Office Operations and Maintenance team completed infrastructure improvements to Link River Dam one year earlier. The bulkhead replacement project, involving several years of planning and material preparation, was scheduled for completion over a three-year period ending in 2021, but the team finished the project in two years. (READ MORE →)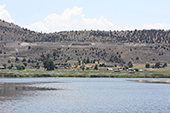 Reclamation, in collaboration with the Farmers Conservation Alliance (FCA), is working on system improvement plans to modernize and improve the Klamath Project's irrigation infrastructure. Reclamation has awarded Tulelake Irrigation District (TID) a $340,000 grant to complete a system improvement plan with FCA by the end of 2022. (READ MORE →)
KLAMATH FALLS, Ore. - Secretary of Interior David Bernhardt met with water users, tribal leaders, elected officials, Reclamation's Klamath Basin Area Office staff, U.S. Fish and Wildlife Service, and U.S. Geological Survey, to find solutions for the Klamath Project. Joined by Reclamation's Commissioner Brenda Burman, Regional Director Ernest Conant, Deputy...(READ MORE →)
---
Last Updated: 8/24/22