Yuma Area Office
Maria Ramirez, Area Manager, Yuma Area Office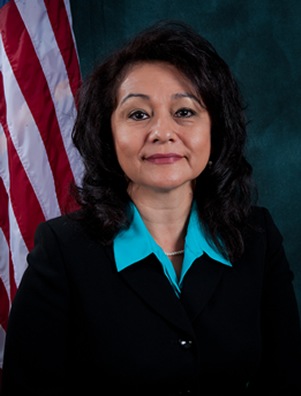 Maria Ramirez is the Area Manager for the Bureau of Reclamation's Yuma Area Office. The Yuma Area Office coordinates the delivery of nearly six million acre-feet of Colorado River water annually to the Imperial, Coachella and Yuma valleys, and to Mexico. The water supplies municipal areas along the river, and irrigates more than 1.2 million acres that produce much of the U.S. winter vegetable crop. In addition to water delivery, the office is responsible for international Treaty compliance, groundwater management, river maintenance, and operation and maintenance of the Yuma Desalting Plant. 
Ramirez began her Reclamation career in 1981 in Yuma Arizona. She held multiple positions including Deputy Area Manager, Assistant Area Manager, Program Management Office Chief, Administrative Officer, and Chief Property and Acquisitions Group Manager.
Ramirez has received numerous awards during her career, including the Department of Interior's Superior Service Award. She is a native of Yuma Arizona and holds a bachelor's degree in business management from the University of Phoenix and a master's degree in business administration from Norwich University.  
Webmaster: sha-YAO-WebComments@usbr.gov
Last Updated: 4/23/15