East Park Dam and Reservoir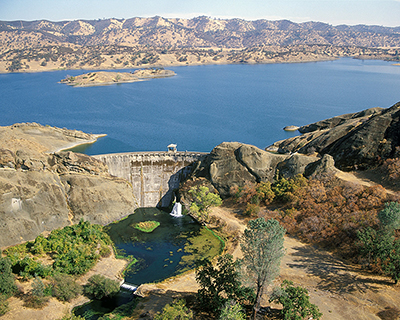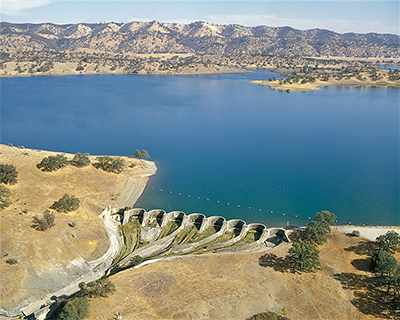 East Park Dam and Reservoir are located in Northern California's Colusa County, about 33 miles southwest of the town of Orland. Completed in 1910, the 139-feet-high dam and reservoir are part of the Orland Project, Reclamation's oldest and smallest water delivery project constructed in California.
The Orland Project includes Reclamation's Stony Gorge Reservoir and approximately 125-mile canal system. East Park Dam is owned by Reclamation and has been operated and maintained by the Orland Unit Water Users Association since 1954. Colusa County manages the reservoir and 1,600 acres of adjacent acres as a park. Visit Parks & Recreation | Colusa County, CA - Official Website (countyofcolusa.org) for recreation information at East Park Reservoir.
UPDATE: East Park Reservoir and Park will close for the season on August 20 for dam inspection and maintenance.
East Park Reservoir Drawdown and Dam Gate Repair and Replacement Frequently Asked Questions
What repairs are needed and why?
Repair needs on the aging East Park Dam infrastructure have been minor over the greater than 100 years the dam has been operational. However, on March 30, 2020, the regulating gate failed when the gate stem detached due to metal fatigue. An inspection revealed that the gate has significantly corroded and must be replaced.
How will the repairs take place?
In consideration of the already low storage volume and the need to access and repair the known non-functional gate, the Orland Unit Water Users Association will temporarily draw down the reservoir further to expose the other gates for inspection and potential repair. Due to the age of the structure, the potential need to replace or repair up to three additional dam gates is anticipated. The proposed reservoir drawdown will allow full gate inspection and the repair or replacement of gates, as determined appropriate, and restore the dam to its full operational capabilities.
When will the repairs take place?
The drawdown of the reservoir will begin on August 24 and last between 11 to 15 days based on an anticipated outflow of 200 cubic feet per second. After drawdown, inspection and repair of the downstream regulating gates is anticipated to take between 4 to 5 days. The time to repair and rehabilitate the upstream gates will depend on the amount of damage observed following drawdown. The schedule for drawdown and/or repair work may be extended based on unforeseeable conditions (e.g., reduced outflow rate due to debris or sediment blocking lower gates).
When will the park close and reopen?
The park surrounding East Park Reservoir will be closed to the public on August 20, prior to drawdown, and reopen at the discretion of Colusa County, who manages recreation for Reclamation, after exceeding a storage of 5,000 acre feet. Most likely, the park would remain closed to the end of October when it typically closes to recreation for the year and reopen in spring 2022.
What happens to the water released from East Park Reservoir?
Water released from East Park Reservoir during drawdown would flow to Stony Creek below and flow for about 12.6 miles before entering Stony Gorge Reservoir where it would be stored for future water deliveries.
Was an environmental assessment done?
Yes, the environmental assessment is located here: EPR Drawndown and Dam Gate Repair and Replacement (usbr.gov)
Will the drawdown impact any endangered species?
There would be no effect to federal Endangered Species Act (ESA)-listed species or habitat, including critical habitat. Because potentially affected fish species are not ESA-listed, mitigation for effects that cannot be avoided or minimized is not directly and specifically required by law. However, Reclamation is assisting the County of Colusa manager of the park to pursue opportunities that promote and expedite recovery of the warm-water fisheries at East Park Reservoir. These opportunities will include, but are not limited to, pursuit of third-party grants to support fisheries re-stocking, as well as habitat enhancement projects, including structures and planting of vegetation at select locations.
What is the current water storage level and what will it be after the drawdown?
The current water level is ~4,600 acre-feet. The water level will be reduced to 279 acre-feet after drawdown.
Last Updated: 9/9/21