Reclamation Properties in and near the Boulder City Historic District
Quick Links
Send comment via e-mail
Comment Form
Properties Map (8 MB, PDF)
The Bureau of Reclamation was instrumental in constructing Boulder City in support of Hoover Dam, as authorized by the Boulder Canyon Project Act of 1928. In 1983, the Boulder City Historic District was listed on the National Register of Historic Places for its contribution to the nation's history between 1931 and 1945.
Reclamation continues to own and maintain several office buildings and other property in and near the District for its Lower Colorado Regional Office staff and operations. Over the years, Reclamation has made alterations and improvements to the agency's properties and buildings to address current safety, seismic, and other building codes, and to meet changing staffing and facility needs. For example, the Administration and Annex Buildings on Park Street have been retrofitted to meet contemporary standards for seismic safety and energy efficiency, while retaining the original historic characteristics.
Recognizing the historic values of the District, Reclamation developed a Programmatic Agreement to identify National Historic Preservation Act consultation processes for the agency's activities in Boulder City, and is seeking feedback on construction, operation, and maintenance plans for these properties.
Date Street Complex
The Date Street Complex, located at the western edge of the Historic District, has been under development for several years, with projects being completed as funding becomes available. In 2005, four modular laboratory and maintenance buildings were constructed, and in 2008, Building 1300 was completed to provide office space. Currently within the Date Street Complex, Building 100 and 200 are under construction.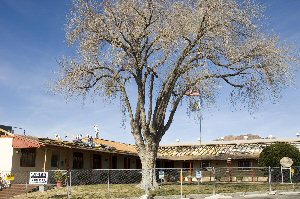 Originally constructed in 1941 by the Bureau of Mines for laboratory and office space, Date Street Building 100 is a contributing property to the District. Now owned by Reclamation, the building continues to be used for office spaces. As a result of seismic risk testing, retrofit was recommended. Upon further examination of the building, structural problems with the roof were identified requiring replacement.
In 2007 work began to address these issues. Interior renovation and energy efficiency systems were added to the construction project. The exterior of the building would be returned to its preconstruction state, retaining its historic integrity. As work progressed, additional structural problems were identified and Reclamation explored alternative methods to complete the project. Based on cost and construction restraints, demolition and reconstruction in the same footprint was proposed.
Reclamation placed the project on hold in May 2008 to explore further historic preservation methods, in response to comments from the Nevada State Historic Preservation Office (SHPO), the Advisory Council on Historic Preservation (ACHP), and the public. Reclamation contracted a specialist to provide historic building preservation recommendations on Building 100. Based on these findings, alternatives and cost estimates were developed for the completion of this project. Consultations are continuing with SHPO, ACHP, the preservation community, and the public throughout the project.
Reclamation also constructed a new "green" office building for approximately 170 employees in its Date Street Complex. The project was funded through the American Recovery and Reinvestment Act (Public Law 111-5) at a total cost of $14.8 million, including all planning, regulatory compliance, design, construction, and contract management. The building was completed in 2011.
Public comments are welcomed on all these projects; they can be sent by any of the following means:
E-mail to: LCROproperties@usbr.gov

Fax to: 702-293-8333

Voice to: 702-293-8419
Regular Mail to:
Bureau of Reclamation
Lower Colorado Regional Office
Attn: LCRO Properties (LC-1140)
P.O. Box 61470
Boulder City, NV 89006-1470
Last Updated: 7/2/15