Rehabilitation of Date Street 100 and 200 Buildings in Boulder City
Quick Links
FONSI & Final Environmental Assessment
Appendix A
Other Reclamation Properties Info
Background
Originally constructed in the 1930s and 40s by the Bureau of Mines for laboratory and office space, Buildings 100 & 200 on Date Street in Boulder City, Nevada, are contributing properties to the City's Historic District. Now owned by the Bureau of Reclamation, the buildings were formerly used for office spaces, but as a result of seismic risk testing, retrofit was recommended. Upon further examination of the building, structural problems with the roof were identified requiring replacement.
In 2007 work began to address these issues. Interior renovation and energy efficiency systems were also added to the construction project. The exterior of the building would be returned to its preconstruction state, retaining its historic integrity. As work progressed, additional structural problems were identified and Reclamation explored alternative methods to complete the project. Based on cost and construction restraints, demolition and reconstruction in the same footprint was proposed.
Reclamation placed the project on hold in May 2008 to explore further historic preservation methods, in response to comments from the Nevada State Historic Preservation Office (SHPO), the Advisory Council on Historic Preservation (ACHP), and the public. Date Street Building 100 currently stands without a roof and without interior walls. In the interim, outer walls have been secured with bracing and are inspected regularly for damage.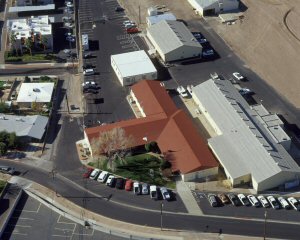 Reclamation contracted a specialist to provide historic building preservation recommendations on the buildings. Based on these findings, alternatives and cost estimates were developed for the completion of this project. Consultations are continuing with SHPO, ACHP, the preservation community, and the public throughout the project.
Reclamation and contractor Whiting-Turner Contracting Company's Nevada-based office (see news release) are planning and designing the rehabilitation of these two historic buildings to integrate water and energy conservation features while maintaining their historic design features to be compatible with the Historic District and surrounding buildings. When completed in 2012, the two buildings, covering approximately 20,000 square-feet combined, will provide office and records management space, and training and conference facilities for Reclamation.
Regulatory Compliance
As part of the regulatory compliance process, Reclamation prepared an Environmental Assessment and Finding of No Significant Impact (FONSI) in accordance with the National Environmental Policy Act that analyzed potential effects on resources associated with project alternatives.
Also, as part of the regulatory compliance process, Reclamation consulted with the Nevada State Historic Preservation Officer in compliance with the National Historic Preservation Act. As part of this consultation, Reclamation engaged interested parties, including the public.
Schedule/Milestones
Activities related to stakeholder coordination, environmental and historic compliance, and project management will be ongoing throughout all phases of work.

Major Activities Schedule



May 2011

July 2011

September 2011

Commence Design Activities

Fall 2011

Start Preliminary Construction Activities

Winter 2011

Construction Substantially Complete

Fall 2012
For more information on this project, contact Terri Saumier at tsaumier@usbr.gov or 702-293-8565.
Last Updated: 7/2/15