Reservoir Parks Master Plan & Resource Management Plan/EA
Resource Management Plan (RMP) & Environmental Assessment (EA) for Horsetooth Reservoir, Carter Lake, Pinewood Reservoir and Flatiron Reservoir
The public is invited to provide input on the Draft RMP/EA and the Reservoir Parks Master Plan at two open houses scheduled at the following locations and times:
Wednesday, June 14, 2017 – 4:30 p.m. to 7:00 p.m. – Chilson Senior Center, 700 E. 4th Street, South Entrance, Loveland, Colorado
Thursday, June 15, 2017 – 4:30 p.m. to 7:00 p.m. – Larimer County Courthouse, Hearing Room, 200 W. Oak Street, Fort Collins, Colorado
Read the Draft RMP/EA and view the Public Information Boards for the Public Meetings.
View the Memorandum of Understanding No. 97-AG-60-09220 - Recreation Management of the Larimer County Reservoirs - Bureau of Reclamation and the Larimer County Parks Department - Colorado-Big Thompson Project, Colorado
Written comments will be accepted at the Public open houses or can be provided online on the RMP/EA Comment form, by e-mail or regular mail. E-mail should be addressed to the attention of Mr. Patrick McCusker at pmccusker@usbr.gov. Regular mail or Fax should be sent to the following address:
Patrick McCusker, Natural Resource Specialist
Bureau of Reclamation
11056 W. County Road 18 E
Loveland, CO  80537
Fax: 970-663-3212
Comments will be accepted throughout the 60-day public comment period until August 7, 2017.
Resource Management Plan & Environmental Assessment:
The Bureau of Reclamation and Larimer County Department of Natural Resources (Larimer County) are proposing to update the 2007 Resource Management Plan (RMP). Ninety percent of the 2007 RMP has been implemented and an update is now needed to respond to current conditions, visitor use, and demands.
Larimer County manages Reclamation lands, waters, and facilities at Horsetooth Reservoir, Carter Lake, Flatiron Reservoir, and Pinewood Lake for public recreation purposes. The updated RMP will be used to guide Reclamation and Larimer County in meeting the recreation demands of park visitors at the four Larimer County-managed reservoirs, parks and similar future-use areas. The updated RMP will not address Reclamation's reservoir operations.
Reclamation and Larimer County are working hand-in-hand to coordinate and outline recreational development and improvements at the four reservoirs. As the lead federal agency, Reclamation is responsible for the updated RMP and associated Environmental Assessment (EA) which includes compliance under the National Environmental Policy Act (NEPA). The EA will assess surface-disturbing activities associated with a range of alternatives at these reservoir parks. The RMP & EA together ensure the desired outcomes meet the management objectives of Reclamation and Larimer County, as well as being in compliance with federal laws and regulations.
RMP/EA Objectives
Set goals for the management area
Establish desirable use levels
Identify types of development and land uses
Determine how all of this will be accomplished
Reclamation owns and operates nearly 7,000 acres of land and water across four reservoirs: Horsetooth Reservoir, Carter Lake, Flatiron Reservoir and Pinewood Reservoir.
These four federal reservoirs are part of the Colorado-Big Thompson water project. Water stored in these four reservoirs is distributed by the Northern Colorado Water Conservancy District for municipal, agricultural and other uses.
Larimer County is preparing and conducting public outreach for their Ranch Master Plan and the Reservoir Parks Master Plan concurrently with Reclamation's RMP/EA. To learn more about these plans please visit the following website: www.onegreatcountytoplay.com.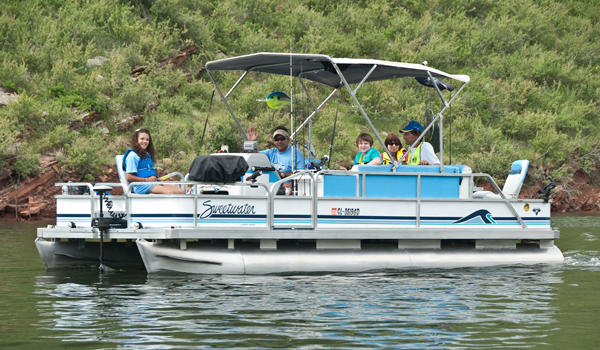 Last Updated: 7/21/17