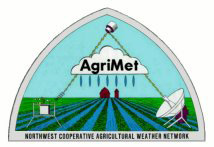 The following stations in Montana are located west of the Continental Divide: Corvallis, Creston, Deer Lodge, Round Butte, and St. Ignatius. These AgriMet stations are all part of the USBR Pacific Northwest AgriMet Program.
View the interactive AgriMet Network Map covering both the Missouri Basin and Pacific Northwest Regions … at the map, click on a station for access to more information.
In addition, the North Dakota Agriculture Weather Network (view weather information) has stations in Montana located at Sidney and Brorson. View the Crop Water Use information for these stations.
AgriMet is a satellite-linked, weather and evapotranspiration (ET) reporting network. This network is used to assist irrigators in scheduling irrigation applications. Growers use the system's data along with field examinations to determine when and how much water is required for optimum crop growth.
AgriMet provides generic local crop and weather information accessed via the links on the individual station page.
AgriMet is excited to announce a partnership with Washington State University to incorporate AgriMet data into WSU's AgWeatherNet Irrigation Scheduler program. To customize crop consumptive water use specific to your field or fields, use the mobile link or desktop link. Note, to use either link, you have to have a AgWeatherNet account (free registration) which can be done through either of these two links.
---
For further information about AgriMet, contact: mbwebmaster.
Last Updated: 8/4/20