Shasta Dam Tours and Related Information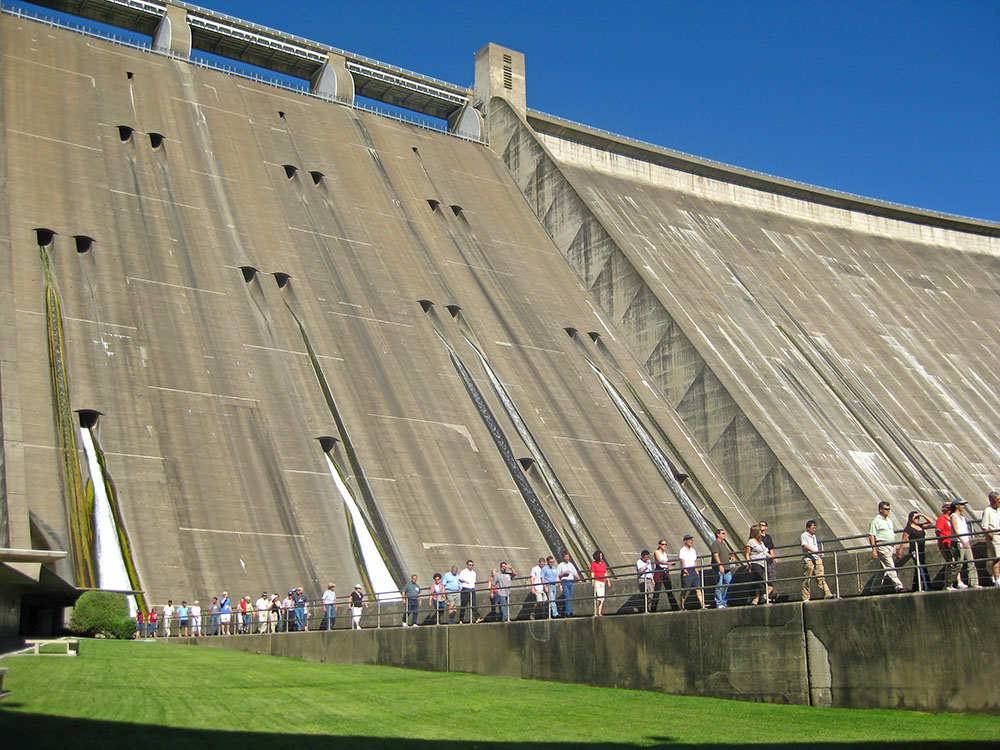 The friendly and knowledgeable tour guide staff at Shasta Dam invites you to come along on a free guided tour of the dam and power plant. Tours are offered 7 days a week. Tours include an elevator ride down inside the dam, where guides will discuss the history, purpose and construction of this huge project. After the short walk through the dam, the tour heads over to the powerhouse for a chance to view the state's largest hydroelectric generating station.
Tour Times
Shasta Dam Tours are currently suspended while the tour elevator is being refurbished.
We encourage you to visit us and take a walk on the dam, see our movie in the Visitor Center, or just enjoy viewing Shasta Lake from a different perspective.
Tours are conducted 7 days a week at: 9 a.m., 10:15 a.m., 11:30 a.m., 1 p.m., 2:15 p.m., and 3:30 p.m. Tours leave promptly, so plan on arriving at least 30 minutes early to allow enough time to walk out on the dam where the tour starts. Plenty of parking is available at the Visitor Center. Tour hours are subject to change without notice.
Tours take approximately 1 hour
First come, first served, please arrive 30 minutes early
Fully accessible
Maximum of 40 people allowed on each tour
Pick up FREE tour tickets at Visitor Center.
Restrictions
Please leave behind the following items: bags of any kind, electronic devices such as iPads, and weapons of any kind (including pocket knives). None of these items will be allowed on the tour. Cameras and cell phones are allowed on the tour.
Group Tours
Group tours are available for civic organizations, schools, and other organized groups. For information and scheduling please contact us at 530-247-8555. Tour times are subject to change without notice.
Visitor Center
Hours 8 a.m. to 5 p.m. including holidays.
For More Information
For more information on tours, please contact us by phone at 530-247-8555 or by email, (click) here.
Last Updated: 7/2/19