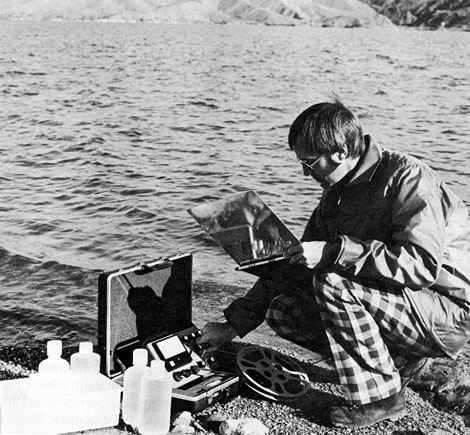 Dr. Wayne Deason takes dissolved oxygen measurements on the south shore of the Bill Williams Arm of Lake Havasu. Dr. Deason is collecting date to study bacteria in the Colorado River, which will soon be delivered to central Arizona via the Central Arizona Project canal.
by Dr. Wayne Deason
In only a few years, water from the Colorado River will be delivered far into Arizona.
Of concern to Arizonans is the quality of the water. Rivers that are used heavily for recreation often have water quality problems, such as high bacterial counts, associated with such uses. Since the Colorado River is used for boating, swimming, water skiing, and fishing, Arizonans have been concerned that the water quality might be less than it should be.
To eliminate apprehensions concerning poor quality water, two independent studies are being undertaken - one with the Department of Hydrology and Water Resource, University of Arizona, and the other a bacterial study being conducted by the author.
The Bureau of Reclamation and the Arizona Water Commission jointly contracted with the University of Arizona to undertake a comprehensive inventory of water conditions at Lake Havasu and in particular the Bill Williams arm. The objective of the investigation is to characterize the chemical, physical and biological properties of the inflow from the Bill Williams River and their influence upon the waters of the Colorado River. The purpose of this characterization is to identify potential problems that may exist or can be foreseen that would be detrimental to the Central Arizona Project.
Based upon an established sampling grid, water samples are collected monthly so that quality analyses can be made. These analyses include productivity evaluations using carbon 14 analysis procedures, benthic invertebrate analyses, and phytoplankton and zooplankton analyses.
The bacteriology study is designed to look at selected heterotrophic bacterial* through the use of selective and chemically defined media (bacterial food). In particular, total bacterial, total coliforms and fecal coliforms (colon bacteria) are being investigated. These kinds of bacteria are prevalent because Lake Havasu and the Colorado River provide the Southwest with a heavily-used recreation base both during summer and winter months.
*Heterotrophic bacteria require complex organic compounds of nitrogen and carbon for metabolic synthesis.
Dr. Wayne Deason is the supervisory environmental specialist in the Bureau of Reclamation's Lower Colorado Region, Boulder City, Nev. He has a Ph.D. in microbiology.
Source:
Reclamation ERA Magazine, Winter 1975.
For more information:
http://www.usbr.gov/pmts/tech_services/analyses/index.html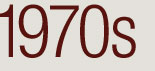 PROJECTS
Ambitious Water Infrastructure Project Begins
WATER USES
Concrete Work Pays Off
LEGISLATION
New Name for Bureau of Reclamation
ENVIRONMENT
Water Quality Investigations
PEOPLE
Norman Rockwell commissioned to paint Glen Canyon Dam