Decade Summary
President Theodore Roosevelt dedicates his namesake dam and less than one year later, Arizona is admitted into the Union as the 48th state. The U.S. Reclamation Service continues to develop the Salt River and Yuma projects, but runs into problems with Salt River Valley farmers over the cost of Roosevelt Dam. The Salt River Valley Water Users Association signs a contract with the Reclamation Service to assume the operation and maintenance of the dam, canals, and laterals that make up the Salt River Project. The Reclamation Service continues to assist the Salt River Project to improve infrastructure.
LEGISLATION
The Party's Over
With completion of Roosevelt Dam a new era began for the Reclamation Service and the Salt River Valley Water Users Association. Once the congratulatory trumpets silenced and the civic parades ended, reality set in the form of hard feelings between the Association and Reclamation ... more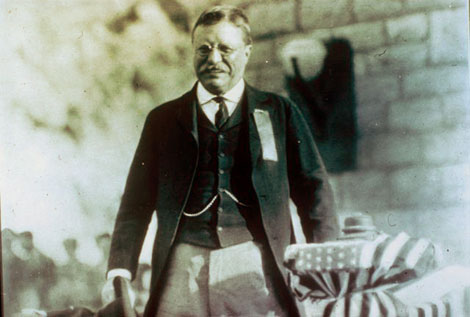 President Theodore Roosevelt at the formal dedication of the dam, March 18, 1911. (Reclamation photograph)
With a huge American flag draped over its parapets, President Theodore Roosevelt pressed a button that released a jet of water down the canyon from America's newest Progressive-era technological marvel. The date was March 18, 1911, and a thousand onlookers witnessed this historical event, the likes of which the American West, or perhaps America at large, had never seen—the dedication of the world's highest stone masonry gravity dam. In his improvised address, the President seemed touched that something so big and monumental could befit his namesake, and placed the dam's completion up there with the other technological engineering achievement of the day, the Panama Canal. As completed in 1911, Roosevelt Dam was 184 feet thick at the base, 16 feet wide at the crest, and rose 284 feet, while its backwater, Roosevelt Lake, held 1.28 million acre-feet of water (ac-ft, or the amount needed to cover an acre of land with water one foot deep).
Within months of the Reclamation Act becoming law, the Reclamation Service and the Salt River Valley Water Users Association established three important goals: build the Salt River storage dam Dr. Chandler and others had envisioned over the previous two decades, construct a dependable canal diversion dam downstream from the storage dam to replace the crude rock and brush diversion structures that usually washed away in floods, and have the Government purchase, improve, and expand the private canal system that had been developed in the Salt River Valley. Progress was paramount, because the new storage facility, named Roosevelt Dam ... More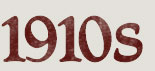 PROJECTS
Roosevelt Dam: The U.S. Reclamation Service's Crown Jewel
WATER USES
The Fruits of Their Labor
LEGISLATION
The Party's Over: The Aftermath of Building Roosevelt Dam
ENVIRONMENT
PEOPLE
The Man Behind the Camera: Walter J. Lubken
The Men Who Built the Dam