Decade Summary
The big news of this decade is the continued construction of the Central Arizona Project. The first water deliveries to Harquahala Irrigation District marked the beginning of a new era in farming. Project priorities other than water deliveries are emerging: environmental protection is integral to CAP construction and recreation is recognized as an authorized use of reclamation lands; Salt River Project canals are included in metro recreation corridors. Continuing the trend that began in the 60s, SRP's urban water use surpasses agricultural use for the first time in history (55% urban, 45% agricultural, 1984). A Supreme Court decision to refuse to reopen a previous decree awarding federally reserved water rights to five lower basin tribes will have far-reaching ramifications.
Legislation
Eighty years after the signing of the Reclamation Act of 1902, the West had become one of the leading producers of agricultural products in the world, and growth turned the "Great American Desert" into a homeland for millions of people. ... more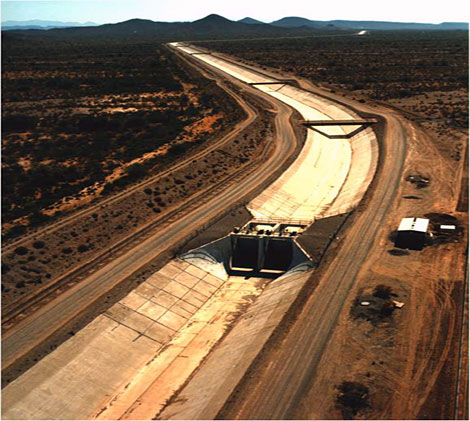 Central Arizona Project canal. (Reclamation photograph)
During the 1980s, construction on the Central Arizona Project aqueduct continued. In this decade, the CAP would bring Colorado River Water to central Arizona for the first time. Construction began in 1973, but it was not until May 22, 1985, that the first water deliveries occurred, and it would be almost another ten years before the project was declared "substantially complete." With the initial delivery of 50 cubic feet per second to the Harquahala Valley Irrigation District, located about sixty miles west of Phoenix, a new era of water use and sustainability began in Arizona (see article on Water Uses). Farmers who had been using groundwater to irrigate their crops, began applying Colorado River water to their cotton, lettuce, pistachios, melons and more.
CAP water reached the Phoenix metropolitan area in November of that year when two six-foot flood gates were opened, allowing Colorado River water to be delivered to the Union Hills Water Treatment plant and the residents of Phoenix, Arizona.
CAP controversy continues through construction phase
Even as construction progressed, elements of the project remained controversial. Several dams that had been included in the original authorization were later eliminated. The Colorado River Basin Act, Public Law 90-537, which was passed in 1968 and authorized construction ... More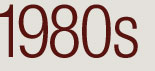 PROJECTS
Central Arizona Project Construction
WATER USES
Delivery of Water to Harquahala Valley Irrigation District
LEGISLATION
The Reclamation Reform Act of 1982
ENVIRONMENT
Environmentalists stop Cliff Dam
PEOPLE
Larry Morton – Assistant Project Manager, Bureau of Reclamation, Arizona Projects Office