Decade Summary
1973 marked the beginning of construction on the Central Arizona Project. The 336-mile canal, snaking across the desert from Lake Havasu to south of Tucson, would deliver water to farms, cities, and Indian reservations. It would forever change the way Arizona planned for future water needs. On a smaller scale, Reclamation continued to work with local water districts to help them conserve water by lining their delivery ditches with concrete In 1979, Reclamation changed its name to Water and Power Resources Service, but the change was only temporary, lasting a few years. And Reclamation went "artsy" with a new program to commission famous artists to create paintings of project, commissioning Normal Rockwell to memorialize Glen Canyon Dam.
People
Reclamation projects, as seen through the eyes of a number of the nation's leading artists, are being depicted in paint for ultimate display in project visitor centers and elsewhere. The new venture began early in the summer of 1969 with the commissioning of a number of selected artists to visit its water resource development sites through the Western United States and record their impressions ... more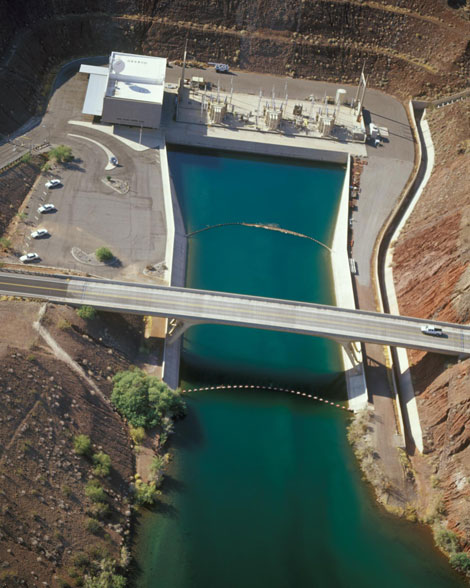 Aerial view of the Mark Wilmer pumping plant located near Lake Havasu, Arizona. It is one of fourteen pumping plants located along the 336-mile long delivery system, lifting water 3,000 feet. An additional pump/generating plant is located off the main aqueduct at New Waddell Dam (Reclamation photo)
On May 6, 1973, a groundbreaking ceremony on the banks of Lake Havasu heralded the beginning of the largest water delivery project in Arizona's history. Construction of the project began with the award of a contract for the Havasu Intake Channel Dike and excavation for the Havasu Pumping Plant (now Mark Wilmer Pumping Plant) on the shores of Lake Havasu.
Through mountains, under highways, into the middle of Arizona, the Central Arizona Project aqueduct, when completed, would raise Colorado River water approximately 3,000 feet above sea level and deliver it 336 miles, via canals, siphons, tunnels, and pumping plants, through desert and farmlands and Indian reservations to the major metropolitan areas of the state: Maricopa, Pinal, and Pima counties.
In addition to the metropolitan water supply, the project would provide power, flood control, outdoor recreation, agricultural irrigation, water for Indian water rights settlements, and fish and wildlife habitat benefits. Authorized in September 1968, the project was projected to deliver an average 1.5 million acre-feet of Arizona's 2.8 million acre-foot Colorado River entitlement ... More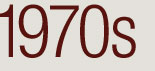 PROJECTS
Ambitious Water Infrastructure Project Begins
WATER USES
Concrete Work Pays Off
LEGISLATION
New Name for Bureau of Reclamation
ENVIRONMENT
Water Quality Investigations
PEOPLE
Norman Rockwell commissioned to paint Glen Canyon Dam