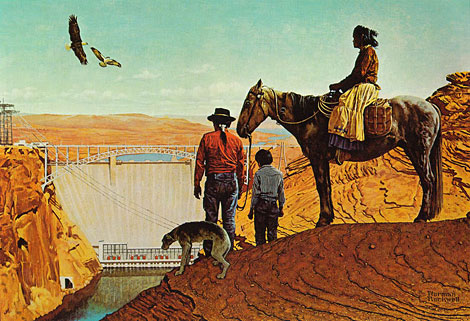 Glen Canyon Dam by Norman Rockwell (1894-1978); Oil on canvas, 51" x 77"; Glen Canyon Dam, Colorado River Storage Project, northern Arizona. Glen Canyon Dam in northern Arizona is the primary feature of the Colorado River Storage Project. Water stored behind the 710-foot high dam is used to meet obligations to the states of the Lower Colorado River Basin as outlined in the Colorado River Compact. The water is used for irrigation, power generation, municipal and industrial uses, and fish and wildlife enhancements. In addition, the dam provides a high degree of flood control along the lower Colorado River.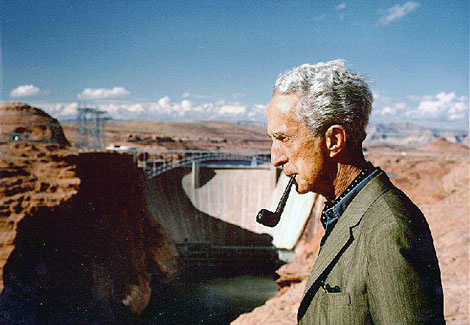 Norman Rockwell at Glen Canyon Dam, Arizona. Norman Rockwell is arguably one of America's most recognized artists. Born in New York, he left high school to study at the National Academy of Design and the Art Students League of New York. The cover of The Saturday Evening Post was his forum for over forty years, producing more than 400 covers for the magazine. Rockwell described himself as a "people painter," and indeed, people, common people from all walks of life were the models for most of his works. Among the most prominent subjects of Rockwell's work were Presidents Eisenhower, Kennedy, and Johnson, and world leaders including Nasser of Egypt and Nehru of India. The Norman Rockwell Museum in Stockbridge, Massachusetts has preserved a large collection of Rockwell's works. Reclamation Photo.
Reclamation projects, as seen through the eyes of a number of the nation's leading artists, are being depicted in paint for ultimate display in project visitor centers and elsewhere. The new venture began early in the summer of 1969 with the commissioning of a number of selected artists to visit its water resource development sites through the Western United States and record their impressions in paint.
Perhaps the best known of the artists who have participated in the art program as of this writing is Norman Rockwell, whose name is known literally all over the world for his penetrating illustrations of the American scene on the covers of the Saturday Evening Post. Rockwell was invited to visit Glen Canyon Dam and Lake Powell and contribute his reactions to the area in paint.
"I am a people painter," Rockwell said, "not a landscape artist. You would like a painting of Glen Canon Dam, I suppose. But if I do it, I'm afraid it might look like a mechanical drawing - lifeless . . . unless, perhaps, I could work some people into it?"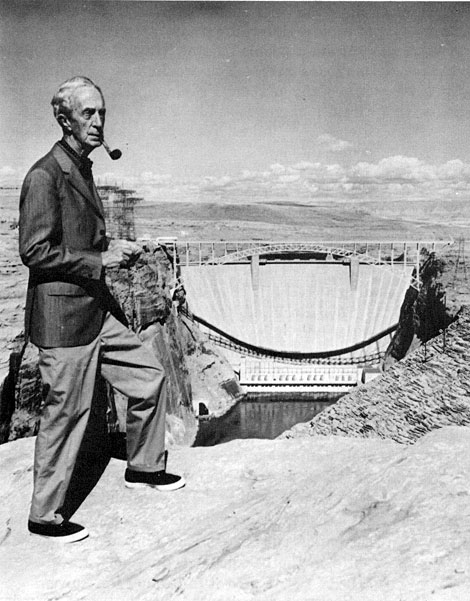 Famous Norman Rockwell, marveling at scenery, said, "Perhaps I could work some people into it," referring to his planned painting of glen Canyon Dam. Reclamation Photo, Reclamation ERA Magazine, February 1970.
Soon Rockwell had conceived the notion of using a trio of Navajos, the woman on a horse, the man standing, holding the hand of a small child on his right, his left hand holding the horse's bridle. The group would be perched near the canyon rim, looking upstream at Glen Canyon Dam. The trio and the horse would be in shadow, Rockwell went on, doing a rapid sketch on a napkin as he talked, and the dam would be in bright sunlight with Lake Powell in the background stretching up into the Utah canyon lands. Rockwell continued sketching away. "You don't mind if I put that butte in the background, do you? . . . what's it called? . . . I need it to balance the canvas."
Rockwell was granted artistic license to move Tower Butte, a dominating landmark some 15 miles away, and place it wherever he wanted to.
Despite his napkin sketching, Rockwell relies mainly on photography for guidance in his work, with Mrs. Rockwell serving as his official photographer. The Indian group and the horse were posed and photographed on the shady side of a barn, while countless photos of the dam and Lake Powell were taken from the canyon rim, from an airplane, and from a boat.
When last heard from Norman Rockwell was back at his studio in Stockbridge, Mass., putting it all together on a canvas six feet long by four feet high.
Source:
Excerpted from an article, Reclamation Launches Art Program, in the February 1970 issue of The Reclamation Era, written by John DeWitt, Washington, D.C.
For more information:
http://www.usbr.gov/museumproperty/art/rockwell.html
http://www.usbr.gov/museumproperty/art/biorockw.html
http://www.nps.gov/glca/planyourvisit/visitorcenters.htm
http://www.usbr.gov/projects/Facility.jsp?fac_Name=Glen+Canyon+Dam
http://www.recreation.gov/recAreaDetails.do?contractCode=NRSO&recAreaId=2011&contractCode=129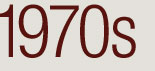 PROJECTS
Ambitious Water Infrastructure Project Begins
WATER USES
Concrete Work Pays Off
LEGISLATION
New Name for Bureau of Reclamation
ENVIRONMENT
Water Quality Investigations
PEOPLE
Norman Rockwell commissioned to paint Glen Canyon Dam