Decade Summary
The Salt River Project was complete, and litigation, begun in the 1940s regarding allocation of Colorado River water, went to the Supreme Court in 1952 at the request of Arizona. While the decision that would determine Arizona's water future waited for "judgment day," Reclamation activities still benefited the citizens of Arizona. On the "edges" of the state, work continued on authorized projects in the Colorado River: Davis Dam construction was going strong. And Congress voted for a dam at Glen Canyon; preparations began for the first pour of concrete in 1960. Meanwhile, the homesteaders on Reclamation lands in Yuma were working on water treatment.
PEOPLE
Mark Wilmer
You won't see his name on any libraries or government buildings. There aren't any freeways or airports named after him. You would even be hard pressed to find any mention of him in Arizona history books. However, Mark Wilmer is probably one of the most important people in Arizona's history. He is ... more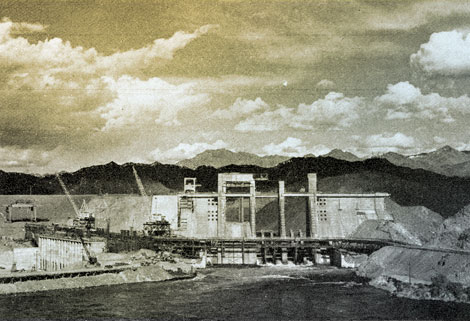 The river is rising – but no cause for alarm. A lake 67 miles long is being created behind Davis Dam, shown with the stop logs in place, raising the water at the dam to a depth of 70 feet. The Arizona end of the dam is at the left.
By Russell K. Grater, Park Naturalist, Lake Mead Recreational Area, Arizona and Nevada
The concrete stop logs dropped into the spillway slots at Davis Dam.
Gradually, water began to rise behind the dam, covering an area which had been combed thoroughly be various members of the National Park Service for several years. Now the archaeologists and surveyors could give way to those who develop parks, picnic grounds, bathing, boating, fishing places, and other necessities of a Federal recreation area.
Davis Dam, located between Nevada and Arizona, 67 miles below Hoover Dam, the newest link in the chain of Reclamation structures on the Colorado River, was backing up a startling expanse of bright cobalt blue which makes the traveler rub his eyes in disbelief as he suddenly comes upon this enormous, swiftly flowing, cold, blue river, in the midst of the parched desert.
Several years before construction work began on the dam, George F. Baggley, superintendent of the Lake Mead Recreation Area (of which this Davis Dam area is a part) set his crews to work investigating the shores.
During the investigations, survey parties found more than a hundred ancient archeological sites along the river. These sites were once occupied by early day Indians who gave us what is known as the Patayan Culture. "Patayan" comes from a Walapai Indian term meaning the "Ancient Ones." Not much is known today ... More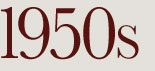 PROJECTS
New Lake in the Desert
WATER USES
Yuma Homesteaders "De-Bug" Water
LEGISLATION
"Whiskey is for Drinking, Water is for Fighting!"
ENVIRONMENT
Getting Rid of Johnson Grass
PEOPLE
Mark Wilmer - Arizona's Water Master