Decade Summary
The 20th Century's last decade also brought closure to several Reclamation projects and delivered their benefits to the state of Arizona. Newly modified Theodore Roosevelt Dam, with its enhanced safety and increased water storage; protection of the southwestern Willow flycatcher; the Central Arizona Project delivered water 336 miles from the Colorado River to Tucson. At the Washington level, legislation passed to ensure Glen Canyon Dam operated in a manner that protected the Grand Canyon; and Bruce Babbitt, an Arizona native, was named Secretary of the Interior. It was the end of an era for Reclamation in Arizona – there would likely be no more large construction projects, but the agency looked forward to a new Century of Cooperation.
Legislation
The construction and operation of Glen Canyon Dam fundamentally altered the Colorado River ecosystem. Given the importance of Colorado River water to Arizona and the other Lower Basin States, it is not surprising that there has been and remains considerable controversy ... more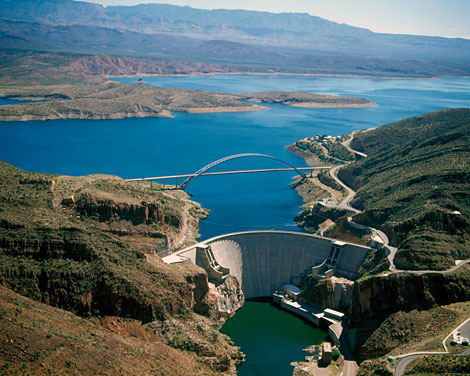 Roosevelt Dam received a 450,000 cubic yard concrete facelift. The new Roosevelt Lake Bridge is in the background. Roosevelt Dam Visitor Center.
Photos courtesy of Bureau of Reclamation.
A water storage and flood control dam that predates Arizona statehood has been brought up to 21st century standards in a nine-year, $434-million renewal project. Eighty-five years after Theodore Roosevelt personally took part in the opening event for the dam that bears his name, a rededication ceremony took place on April 12, 1996 at Theodore Roosevelt Dam.
Originally constructed by the U.S. Reclamation Service between 1905 and 1911, the structure impounds Roosevelt Lake, the first of a continuous chain of lakes extending nearly 60 miles along the Salt. Congress approved safety modifications to Roosevelt Dam in 1984 in order to give the dam an ability to withstand a "probable maximum flood," known as a PMF.
The first concrete block was placed in September 1992. The principal modification was to raise the original structure 77 feet, to a total height of 357 feet. Rehabilitation of the 95-year-old dam was complicated by its masonry construction. Problems included weak mortar joints, cracks and faults in the underlying bedrock, and numerous old tunnels that had to be plugged in its foundation.
One of the project's greatest challenges was to design a concrete overlay that would be compatible with its underlying masonry structure. Reclamation chose a single-curvature approach using ... More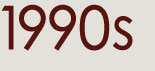 PROJECTS
Roosevelt Dam is Rededicated
WATER USES
CAP Water Reaches Tuscon
LEGISLATION
Grand Canyon Protection Act of 1992
ENVIRONMENT
Reclamation Protects Willow Flycatcher
PEOPLE
Bruce Babbitt