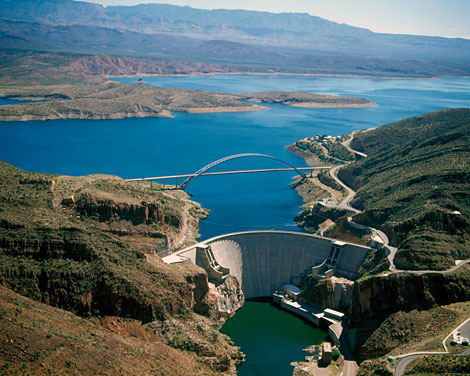 Roosevelt Dam received a 450,000 cubic yard concrete facelift. The new Roosevelt Lake Bridge is in the background. (Reclamation photograph)
A water storage and flood control dam that predates Arizona statehood has been brought up to 21st century standards in a nine-year, $434-million renewal project. Eighty-five years after Theodore Roosevelt personally took part in the opening event for the dam that bears his name, a rededication ceremony took place on April 12, 1996 at Theodore Roosevelt Dam. Roosevelt Dam is the highest in the series of three dams on the Salt River east of Phoenix.
Originally constructed by the U.S. Reclamation Service between 1903 and 1911, the structure impounds Roosevelt Lake, the first of a continuous chain of lakes extending nearly 60 miles along the Salt. Congress approved safety modifications to Roosevelt Dam in 1984 in order to give the dam an ability to withstand a "probable maximum flood," known as a PMF.
The first concrete block was placed in September 1992. The principal modification was to raise the original structure 77 feet, to a total height of 357 feet. Rehabilitation of the 95-year-old dam was complicated by its masonry construction. Problems included weak mortar joints, cracks and faults in the underlying bedrock, and numerous old tunnels that had to be plugged in its foundation.
One of the project's greatest challenges was to design a concrete overlay that would be compatible with its underlying masonry structure. Reclamation chose a single-curvature approach using conventional mass concrete place in 10-feet high, 70-feet wide blocks, ranging in thickness from 10 to 50 feet.
During the modification of the dam in January 1993, record rainfall caused the spillway releases to reach 40,000 cubic feet per second (cfs) and overtop the left side cofferdam. Water was discharged through the partially constructed left spillway onto the powerhouse below. This caused $1 million in damage and set the modification job back nearly six months. On January 19, 1993, storms caused the reservoir to rise to an elevation of 2,139.1 feet, the highest in its history. The lake over-topped the left abutment early in the day and continued to do so for nearly two days, discharging up to 700 cfs of water. The spillway gates were opened February 12, and releases continued until March 8, 1993.
Roosevelt Dam is now protected against earthquake failure, thanks to modifications that allow drainage to the dam's foundation as well as added low-level outlet capacity. Along with improvements in the dam, a new $21.3 million bridge was constructed. It is the longest two-lane, single-span, steel-arch bridge in North America. Built to take traffic off the top of Roosevelt Dam, the bridge spans some 1,080 feet over Roosevelt Lake permitting two-way traffic. The original dam-top roadway was designed to allow two Model-T Fords to pass abreast, a width much too narrow for modern two-lane traffic. In November 1995, the bridge was designated one of the top 12 bridges in the nation by the American Consulting Engineers Council, which cited its overall design, size, eye-appeal and design challenge.
On June 28, 1995 the final block of concrete was placed. The additional 77 feet of dam height increased the water conservation storage capacity by 20 percent and provided for more than 1.8 million acre-feet of flood surcharge storage. The increase of storage capacity also added nearly 300,000 acre feet to Roosevelt Lake.
The Roosevelt Dam Modification was funded by several groups, including Reclamation, Federal Highway Administration, Salt River Project, Central Arizona Water Conservation District, Arizona Department of Transportation, Maricopa County Flood District, and a coalition of six Phoenix metro-area cities: Chandler, Glendale, Mesa, Phoenix, Scottsdale, and Tempe.
As part of this project, new recreational facilities were also constructed. The Federal Water Project Recreation Act (Public Law 89-72) authorized Reclamation funds for the $2.3 million Roosevelt Lake Visitors' Center. Reclamation funding was also used by the U.S. Forest Service to design and construct lake-side facilities to replace those lost as a result of higher lake levels. These facilities include ten separate sites at the lake with 1,515 individual campsites, 80 picnic sites, a 9-site group campground, 9 boat launch areas, and 6 fish cleaning stations. Also constructed were a sheriff's aid station and a marina.
More Information:
http://www.usbr.gov/lc/phoenix/projects/rooseveltdam/rdhistory.html
http://www.srpnet.com/about/history/water.aspx
http://www.uswaternews.com/archives/arcsupply/6reded.html
http://www.usbr.gov/projects/Facility.jsp?fac_Name=Theodore+Roosevelt+Dam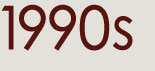 PROJECTS
Roosevelt Dam is Rededicated
WATER USES
CAP Water Reaches Tuscon
LEGISLATION
Grand Canyon Protection Act of 1992
ENVIRONMENT
Reclamation Protects Willow Flycatcher
PEOPLE
Bruce Babbitt