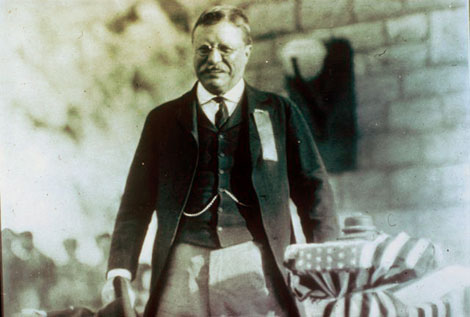 President Theodore Roosevelt at the formal dedication of Roosevelt Dam, March 18, 1911. (Reclamation photograph)
With a huge American flag draped over its parapets, President Theodore Roosevelt pressed a button that released a jet of water down the canyon from America's newest Progressive-era technological marvel. The date was March 18, 1911, and a thousand onlookers witnessed this historic event, the likes of which the American West, or perhaps America at large, had never seen—the dedication of the world's highest, stone masonry, gravity dam. In his improvised address, the President seemed touched that something so big and monumental could befit his namesake, and placed the dam's completion up there with the other technological engineering achievement of the day, the Panama Canal. As completed in 1911, Roosevelt Dam was 184 feet thick at the base, 16 feet wide at the crest, and rose 284 feet, while its backwater, Roosevelt Lake, held 1.28 million acre-feet of water (ac-ft, or the amount needed to cover an acre of land with water one foot deep).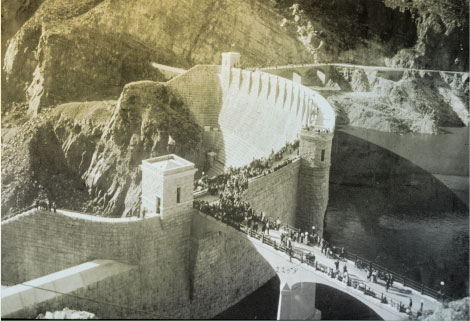 Crowds gathering at the finished dam to hear President Theodore Roosevelt speak at the formal dedication on March 18, 1911. (Reclamation photograph)
Within months of the Reclamation Act becoming law, the Reclamation Service and the Salt River Valley Water Users Association began in earnest to plan for construction of a storage dam on the Salt River and a dependable, permanent canal diversion downstream from the storage dam. The Reclamation Service also began a long-term project to purchase, expand, and improve the private canal system developed in the Salt River Valley. Progress was paramount, because the new storage facility, named Roosevelt Dam in honor of the President, would serve as an icon of the nascent agency's engineering and construction expertise.
Building Roosevelt Dam, however, proved difficult because the site was so remote—nearly 60 miles from Mesa and 40 miles from the copper mining town of Globe. Although dam construction commenced on August 24, 1903, a supply/construction road had to be built along an old native pathway known today as the Apache Trail. This presented challenges that required more money than previously thought. Through special bond issues, valley towns were able to bond themselves and borrow money to complete the road, with Phoenix contributing the most at $67,500. By summer 1904, construction had resumed, with Apache Indians providing the bulk of the labor. Completed in December 1904, the 64-mile-long road cost over $200,000; by the time the dam was finished in 1911, nearly a half million dollars was spent building 112 miles of roads to the dam site at a cost of roughly $4,500 per mile.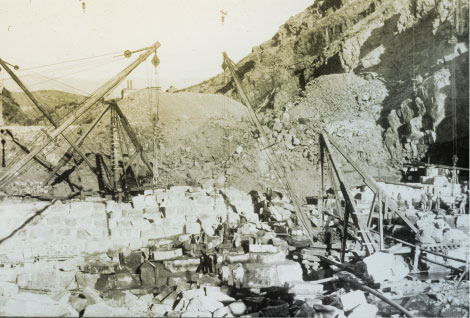 Excavation at dam site, 1906. (Reclamation photograph)
On April 8, 1905, the John O'Rourke Company of Galveston, Texas, was awarded the winning bid of $1.1 million to build the dam in a scant two years. O'Rourke workers would secure equipment, install a machine plant, strip quarries for stone, and drive piles for the upstream coffer dam and flume (used to divert river water around the construction site). Reclamation laborers (or force accounts) would provide power, cement, and sand to build the tool house, gatehouse, a reinforced bridge atop the dam crest, outlet tunnel, and sluice gates. The Reclamation Service intended its first major project to be its "flagship" facility, a dam that would emanate a distinct sense of permanence, stability, grandeur and workmanship. To achieve this goal, 26 Italian immigrant stonecutters, or "rock men," were brought from Pittsburgh to carve the rough limestone bricks that would give the dam its distinctive fascia. Dam workers lived in three construction camps near the site—O'Rourke's Camp, Government Hill, and Roosevelt—with ethnic groups segregated from each other, a normal practice for the times.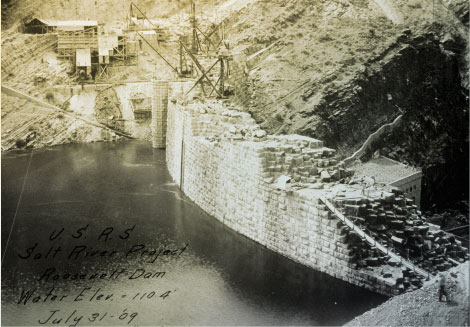 View of the dam, 1909. (Reclamation photograph)
Initially, water storage and control were two of Roosevelt's primary purposes, but in 1904 Reclamation began construction of a 20-mile-long power canal that would add hydropower generation to that list, making it Reclamation's first "multipurpose" facility. There were other reasons: high heating oil costs during construction forced the Reclamation Service to harness the Salt River for hydroelectric generation. In 1906, Reclamation installed a temporary 900 kilowatt (kW) electric generator to supply electricity for construction, and one year later, workers installed a permanent 900-kW generator. Four more units eventually came online, and by September 30, 1909, when the first electricity was delivered from the dam site to Phoenix, the capacity was rated at 4,500 kW. Now, not only were construction costs reduced, the power would run mine and quarry equipment, provide electricity for the construction camps, and allow valley farmers to pump groundwater for crop irrigation.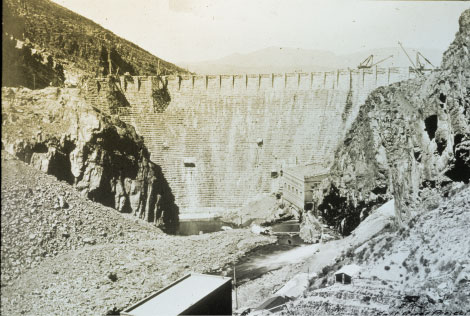 View of the dam nearing completion, 1910. (Reclamation photograph)
As work progressed on Roosevelt, in September 1906 Reclamation laid the cornerstone for the second important element in the project—a dependable and permanent diversion dam below the Salt/Verde river confluence (50 miles downstream from Roosevelt Dam). Diversion dams, to this time, had been crude rock, brush, and timber devices left to the whims of nature; when a flood washed away one diversion structure, another would be built, with the cycle repeating itself. Granite Reef Diversion Dam would end this inefficient build-flood-build cycle. Completed 2 years later in 1908, Granite Reef is 29 feet high with a 1,000-foot-long crest, and delivers water through two turnouts on the north and south side of the river into canal systems for delivery downstream.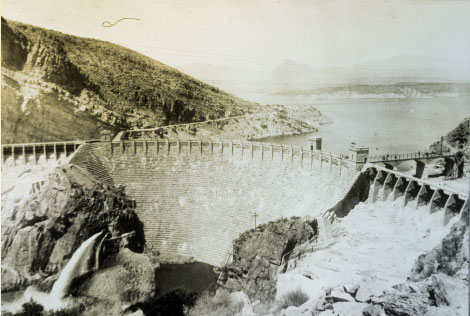 View of the completed dam looking upstream, 1923. (Reclamation photograph)
Meanwhile, various problems plagued Roosevelt Dam construction. Flooding and the contractor's inability to deal with a structure as imposing and ambitious as Roosevelt lengthened the job from 2 to 5 years. As a result, the delays and general inexperience strained the relationship between Reclamation Service and O'Rourke management, to the point where the former thought the latter was lackadaisical and deficient of the intelligence and abilities needed to complete the job. Much like the government, Association landowners were also not happy about seeing their repayment costs increase and enduring delays in getting their irrigation water.
Regardless, Reclamation's first major storage facility was not only hailed as a significant notable civic and economic achievement, but also as the first step in accelerating the growth and economic prosperity of the Phoenix metropolitan area.
Modified and adapted from: National Register of Historic Places Multiple Property Documentation Form, Salt River Project, Arizona, prepared by Jim Bailey, Bureau of Reclamation June 2010; The Bureau of Reclamation: Origins and Growth to 1945, Volume 1. William D. Rowley, Bureau of Reclamation, Denver, 2006.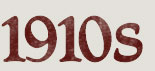 PROJECTS
Roosevelt Dam: The U.S. Reclamation Service's Crown Jewel
WATER USES
The Fruits of Their Labor
LEGISLATION
The Party's Over: The Aftermath of Building Roosevelt Dam
ENVIRONMENT
PEOPLE
The Man Behind the Camera: Walter J. Lubken
The Men Who Built the Dam