Visiting Hoover Dam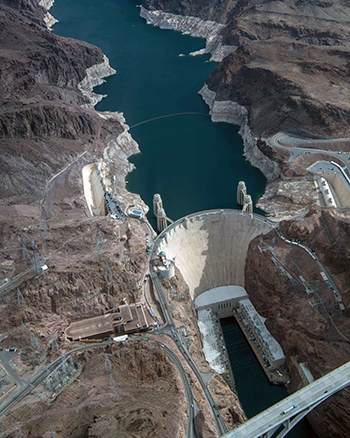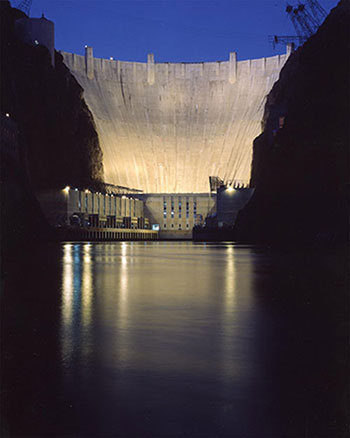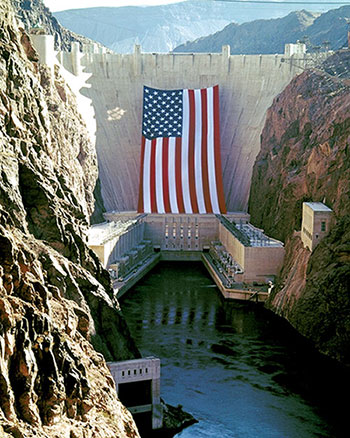 Hoover Dam Tours - The information that you need to plan your trip. Here is where you will find a description of the tour, admission fees, directions and more.
Buy Tickets for Hoover Dam Powerplant Tour - This link will open a new window that takes you to our partner site with Denison Parking where you can purchase tickets on-line in advance of your visit. Note: You can also purchase tickets at Hoover Dam in person, seven days a week (except Thanksgiving Day and Christmas Day.) NOTE: Dam Tour tickets CANNOT be purchased on-line - they are available on a first come-first served basis and must be purchased in person at Hoover Dam. Major credit cards and cash are accepted.
Note: Roadwork at Hoover Dam - August 12 through September 13
**Tours and daytime operations will continue as normal, except as noted below.**
Contractors will perform roadwork nightly at Hoover Dam. There will be no admittance to the Dam after 5:30 pm, and visitors must depart by 5:30 pm. Expect delays during business hours.
Note: Visitor Center Renovation - October 1, 2018 through January 31, 2019
From October 1, 2018 through January 31, 2019 the Hoover Dam Visitor Center will be undergoing renovation. During this time, a modified guided tour of the Nevada wing of the power plant will be offered, with access to the Exhibit Area, Observation Deck, and top of the dam. More information to come in future weeks.
Frequently Asked Questions
- Answers to the most asked questions regarding the construction and operations of the dam.
---
Special Event Activities:

Important Notice - Special Event Activities may be limited or restricted on the following dates: 2 weeks before and 2 weeks after Easter Sunday; typically the first 2 weeks in August; 3 days after Thanksgiving; and the week after Christmas through the first Monday of the new year. Please contact the us to verify availability if your proposed activity occurs during these times of the year.

Private Tour Experiences – Learn how you can schedule your own private tour experience for your family, group, or business.
Special Events at Hoover Dam - Details about permits needed for filming, photography, conferences, sporting activities, weddings, and other events.
Spillway House - This LEED Certified multi-use green building is completed and will open to the public soon. Find out about our event and activity reservations here.
Paddle Craft and Rafting Permits - Info about permits and procedures to launch a canoe, kayak or personal raft at the site just below Hoover Dam.

Learning and Education:
Guidelines for School Tours - Schedule a school group trip to Hoover Dam.
Learning Packet - Download our Learning Packet for use in the classroom.
Kids Facts – The place for all of your kid related Frequently Asked Questions!
Water Operations – Information for Current River Operations in the Lower Colorado Region. This is a great STEM resource for High School and University students and educators.

Historical Information & Photographs
The Story of Hoover Dam - A series of articles that explain the history and some of the technical aspects of the dam. These articles offer a more in-depth explanation than the FAQ statements.
Hoover Dam Historical Collection - A collection of museum items, historic photographs, and news clippings related to Hoover Dam.
Photograph Gallery - Historic and modern photographs of the dam.
Hoover Dam 75th Anniversary - Photographs, a video, and media coverage of the September 30, 2010 event at the dam.

Travelling and Safety:
Crossing Hoover Dam: A Traveler's Guide - Not all vehicles are allowed to cross the dam. Review this document to avoid being turned back. (Adobe Acrobat file - 45 KB)
Directions to Hoover Dam
Hoover Dam Police Department - Providing law enforcement and security services for the dam and its surrounding security zone. The Department's web pages provide a number of helpful fact sheets on crossing the dam, traveler and visitor safety, lost and found, and other services.


Connect with Hoover Dam
Job Opportunities - Learn how you can be a part of the team that operates, maintains and secures this American icon.


Follow Hoover Dam on Facebook!

https://www.facebook.com/theHooverDam/
Last Updated: 8/15/18