Cooperative Watershed Management Program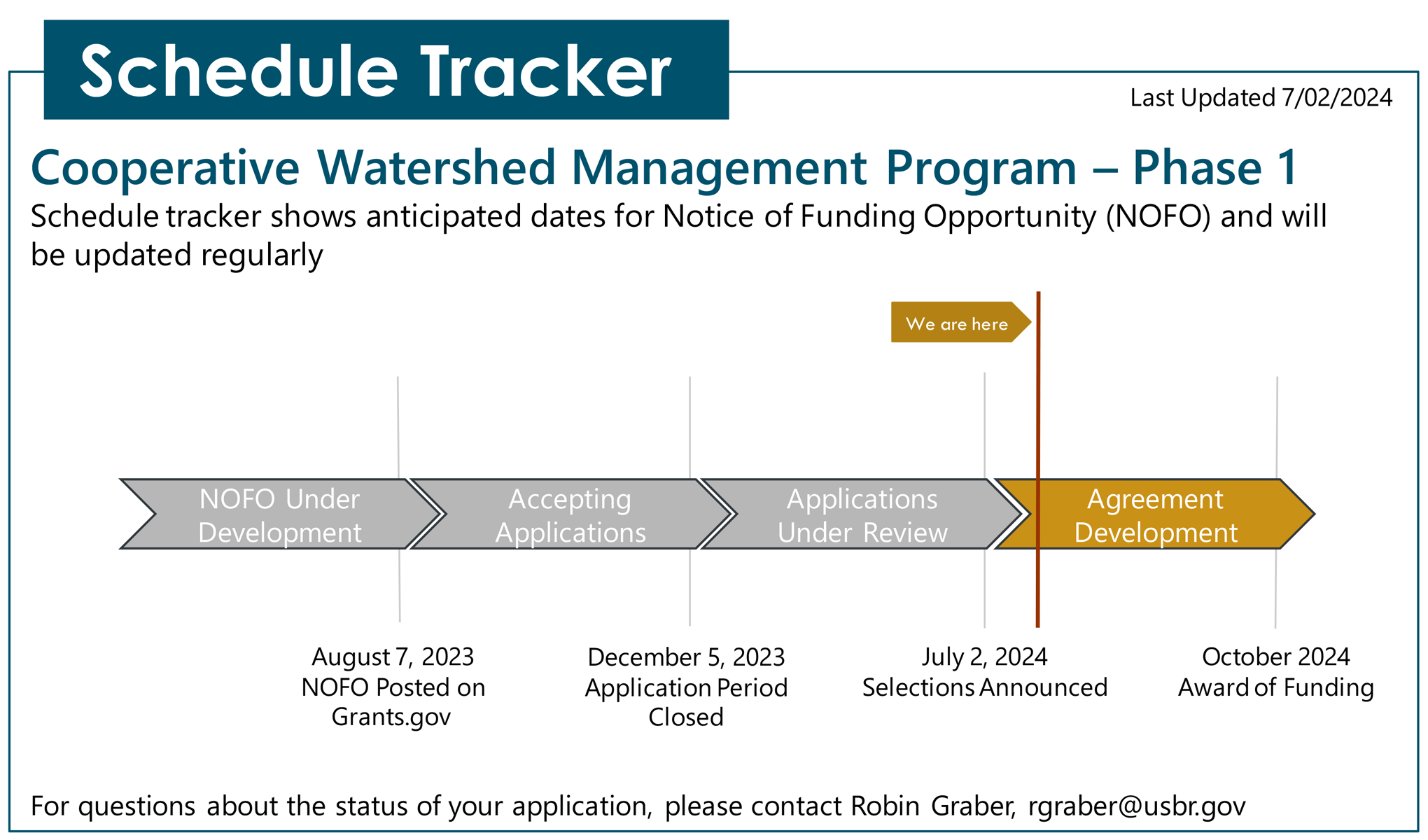 Cooperative Watershed Management Program
The Cooperative Watershed Management Program (CWMP) contributes to the WaterSMART strategy by providing funding to watershed groups to encourage diverse stakeholders to form local solutions to address their water management needs. Funding is provided on a competitive basis for:
Watershed Group Development and Watershed Restoration Planning: In 2012, Reclamation began providing funding for watershed group development, watershed restoration planning, and watershed management project design (Phase I). A watershed group is a self-sustaining, non-regulatory, consensus-based group that is composed of a diverse array of stakeholders, which may include, but is not limited to, private property owners, non-profit organizations, Federal, state, or local agencies, and tribes. As part of Phase I activities, applicants may use funding to develop bylaws, a mission statement, complete stakeholder outreach, develop a watershed restoration plan, and watershed management project design. For Phase I projects, Reclamation will award a successful applicant up to $100,000 per year for a period of up to three years with no non-Federal cost-share required.
Implementation of Watershed Management Projects: In 2017, Reclamation started to provide cost-shared financial assistance to watershed groups to implement watershed management projects. These on-the-ground projects, collaboratively developed by members of a watershed group, address critical water supply needs and water quality concerns, helping water users meet competing demands and avoid conflicts over water. Reclamation currently provides funding to watershed groups for the implementation of watershed management projects through the Environmental Water Resources Projects funding opportunity.
Documents
Contacts
For more information regarding the CWMP, please contact the Program Coordinator, Robin Graber, at 303-445-2764 or rgraber@usbr.gov. Or, you may reach out to your regional CWMP contact, as follows:
Interior Region 5: Missouri Basin & Interior Region 6: Arkansas-Rio Grande-Texas Gulf - Marlena Lanini, (406) 247-7743
Interior Region 7: Upper Colorado Basin - Gary Mcrae, (801) 524-3656
Interior Region 8: Lower Colorado Basin - Ken Isakson, (702) 293-8537
Interior Region 9: Columbia-Pacific Northwest - Jessica Peters, (208) 270-1462
Interior Region 10: California-Great Basin - Anna Sutton, 916-978-5214
If you are unclear what Region you are located in, please see Reclamation's regional map, available at: http://www.usbr.gov/main/offices.html.
You may complete this form to receive WaterSMART program notification from the Bureau of Reclamation.
Announcements
---
The Bureau of Reclamation will host an informational webinar on Thursday, August 31, 2023, from 1:00 – 3:00 pm MDT to discuss the Cooperative Watershed Management Program Phase I and the Aquatic Ecosystem Restoration Projects funding opportunities.

Click here to join the live webinar or use the same link to watch a recording after the completion of the live event.

If you have questions regarding applicant and project eligibility or the evaluation criteria, click here and select the applicable funding opportunity to schedule a time to talk with the program coordinators.  

The Department of the Interior today announced up to $195 million in funding opportunities available through President Biden's Investing in America agenda to develop a more resilient water supply, support cooperative watershed management and safeguard aquatic ecosystems. The funds come primarily from the Bipartisan Infrastructure Law's WaterSMART program, as well as from the Inflation Reduction Act and annual appropriations. Read More →

The Bureau of Reclamation is providing $3.8 million to 21 groups to create or expand watershed groups. WaterSMART's Cooperative Watershed Management Program brings diverse stakeholders together to develop local solutions for their water management needs. Read More →

Last Updated: 11/7/23