Watershed groups receive $3.8 million to collaboratively address water management issues
Western states and U.S. territories receiving funding includes Alaska, Arizona, California, Colorado, Idaho, Nevada, Hawaii, Montana, Nevada, New Mexico, North Dakota, Oklahoma, Oregon, Texas, and U.S. Virgin Islands
Media Contact:
Peter Soeth 303.910.7473 psoeth@usbr.gov
For Release: Sep 14, 2022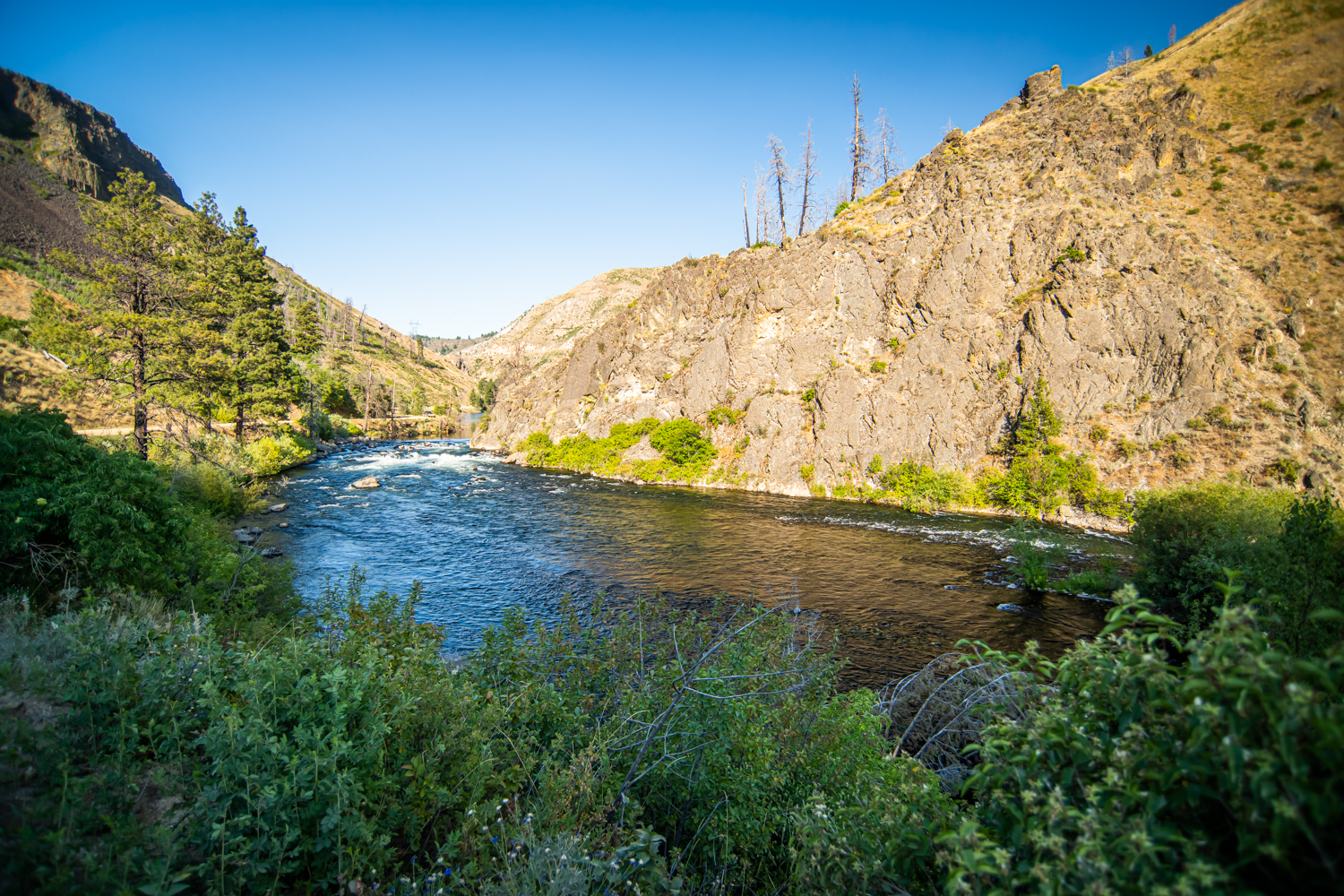 The South Fork of the Boise River below Anderson Ranch Dam in Idaho. This stretch of river will have a watershed group receive funding to help bring everyone together to create an open dialogue.
WASHINGTON – The Bureau of Reclamation is providing $3.8 million to 21 groups to create or expand watershed groups. WaterSMART's Cooperative Watershed Management Program brings diverse stakeholders together to develop local solutions for their water management needs.
"The only way we will be able to meet the many water challenges in the future is if we all work together," said Deputy Commissioner Michael Brain. "The Cooperative Watershed Management Program brings together local stakeholders to collaboratively develop sustainable water solutions,"
Ten groups will share $1.7 million to establish a new watershed group. They are:
Native Village of Georgetown (Alaska), Development of a Middle and Upper Kuskokwim Watershed Council, $199,995

Takshanuk Watershed Council (Alaska), Greater Chilkat Watershed Working Group, $178,620

Tule Basin Land and Water Conservation Trust (California), Formation of the Tule Basin Watershed Coalition, $198,385

Trout Unlimited (Idaho), Development of the Priest River Watershed Group, $156,109

Trout Unlimited (Idaho), Establishment of a New Watershed Group in the South Fork of the Boise River Watershed in Southwest Idaho, $199,038

Valley Soil and Water Conservation District (Idaho), North Fork Payette River Watershed Coalition, $198,220

Santa Cruz Irrigation District (New Mexico), Watershed Group Development and Watershed Restoration Planning for the Rio Santa Cruz Watershed Northern New Mexico, $200,000

McLean County (North Dakota), Turtle Creek Cooperative Watershed Group Development and Management Plan, $69,148

The Chickasaw Nation (Oklahoma), Development of the Lake Texoma Watershed Management Association, $199,831

The University of Texas at Austin (Texas), Establishing the Lower Rio Grande/Rio Bravo Watershed Council and Watershed Restoration Plan, $141,026
Eleven groups will share $2.1 million to expand an existing watershed group. They are:
Norton Bay Inter-Tribal Watershed Council (Alaska), Norton Bay Watershed Restoration Plan, $182,831

Coconino Plateau Watershed Partnership (Arizona), Planning to Support Sustainable Groundwater Use for the Coconino Plateau Watershed Partnership Stakeholders, $198,529

Trout Unlimited (Arizona), Collaborative Black River Landscape Restoration Planning for Apache Trout Climate Resilience, $191,873

Trout Unlimited (Colorado), Supporting the Upper San Juan Enhancement Partnership Efforts to Implement Watershed Plan, $198,477

Hawaii Department of Land and Natural Resources (Hawaii), Planning for Community Resilience Through Watershed Restoration on Molokai, $192,086

Clarks Fork Yellowstone Partnership (Montana), Watershed Group Development and Restoration Planning for the Lower Clarks Yellowstone River, $147,620

Gallatin Watershed Council (Montana), Gallatin Water Collaborative Stakeholder Coordination – Community Engagement and Project Development, $200,000

Nevada Land Trust (Nevada), One Truckee River Vegetation Management and Restoration Planning, $199,998

Amigos Bravos, Inc. (New Mexico), Improving the Ecological Function of the Rio Fernando Through Hydrology and Streambank Restoration Planning, $198,750

Deschutes River Conservancy (Oregon), Development of an Upper Deschutes Subbasin Water Management Plan, $199,500

Coral Bay Community Council, Inc. (U.S. Virgin Islands), Stormwater Management Device Toolkit, $190,289
A watershed group is a self-sustaining, non-regulatory, consensus-based group composed of diverse stakeholders. It comprises but is not limited to private property owners, non-profit organizations, federal, state, or local agencies, and tribes. The group can use the funding to develop bylaws, a mission statement, comprehensive stakeholder outreach, a watershed restoration plan, and a watershed management project design.
To read all 21 project descriptions and learn more about the Cooperative Watershed Management Program, please visit www.usbr.gov/watersmart/cwmp. The Cooperative Watershed Management Program also includes a second phase of funding where groups can apply to receive funding for projects identified through their planning efforts.
Through WaterSMART, Reclamation works cooperatively with states, tribes, and local entities to plan for and implement actions to increase water supply reliability through investments to modernize existing infrastructure and attention to local water conflicts. Visit www.usbr.gov/watersmart to learn more.
Return to top