Reservoir Operations Pilots
Through the Reservoir Operations Pilot Initiative, Reclamation uses modeling and forecasting tools to identify ways to increase flexibility in reservoir operations to support optimal water management.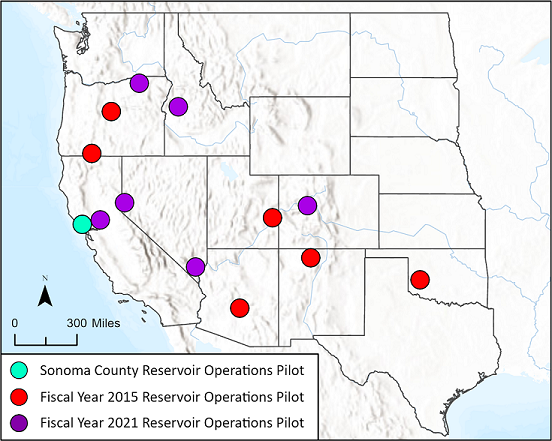 2021 Pilot Studies
In June 2021, Reclamation selected six new Reservoir Operations Pilot Studies to evaluate approaches and potential operating alternatives to increase flexibility in reservoir operations to address risks from changes in the timing and volume of snowpack and runoff, changing water demands, reservoir evaporation, and risks from water supply shortfalls due to drought or competing demands.
Project Descriptions
2015 Pilot Studies
In 2015, Reclamation selected five pilot studies to identify possible improvements to reservoir operations. The results from these pilots are posted on this webpage, as they become available. See links to Bulletins summarizing pilot results and to the full reports.
Missouri River Basin: Upper Washita, Fort Cobb and Foss Reservoirs
California-Great Basin: Klamath River Basin, Klamath Project
Columbia-Pacific Northwest: Ochoco Creek and Crooked River
Lower Colorado Basin: Salt River Project, Salt and Verde Rivers
Upper Colorado Basin: Rio Chama Studies from the University of New Mexico
Contacts
For more information regarding the Reservoir Operations Pilot program please contact Sean Kimbrel at skimbrel@usbr.gov or 720-576-1323.
Announcements
---
The Bureau of Reclamation today released the final report for a pilot study assessing the economic and environmental benefits of alternative reservoir operations. The study - Economic Benefits of Alternative Reservoir Operations for Lake Mendocino - identifies innovative approaches to improve flood mitigation and drought resiliency using Forecast Informed Reservoir Operations. Read More →.

The Bureau of Reclamation has released a report that identifies innovative approaches to improve drought resiliency within the Washita Basin in Oklahoma. The study specifically looked at Foss and Fort Cobb Reservoirs, and the approach can be applied anywhere across the Western United States.

Last Updated: 3/24/23