Newlands Project
The Bureau of Reclamation has a contract with the Truckee-Carson Irrigation District to operate and maintain the Newlands Project on behalf of the Federal government. The Newlands Project has features in both the Carson and Truckee River basins with the Truckee Canal allowing interbasin diversions from the Truckee River to the Carson River. The Newlands Project is made up of two divisions, the Truckee Division and the Carson Division. The Truckee division includes:  Lake Tahoe Dam, Derby Diversion Dam, the Truckee Canal and irrigation delivery system for service to approximately 5,000  acres of irrigated lands. The Carson Division includes: Lahontan Dam, Lahontan Power plant, Carson River Diversion Dam and canals, laterals, and drains for irrigation of approximately 55,000 acres of farmland.
Contract Negotiations for Operations and Maintenance
News release: Reclamation, TCID begin contract negotiations for Newlands Project operations and maintenance
Negotiation sessions scheduled: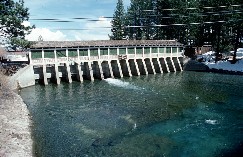 Facility:  Lake Tahoe Dam - Lake Tahoe Dam was built in 1913 but was not acquired by the Bureau of Reclamation for the Newlands Project until 1915. The concrete dam has 17 vertical gates and is used to regulate the outflow into the Truckee River. It is 18 feet high and 109 feet long. The storage capacity is 744,600 acre-feet.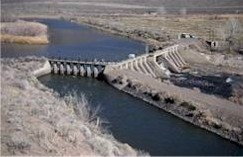 Facility:  Derby Diversion Dam - This concrete dam was built in 1905 on the Truckee River about 20 miles east of Reno. This feature of the Newlands Project was the first construction project of the Bureau of Reclamation. It is 31 feet high and 1,331 feet long. The dam diverts water into the Truckee Canal for delivery to the Truckee Division of the Newlands Project and to Lahontan Reservoir.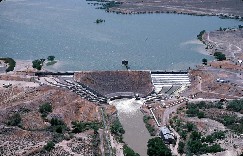 Facility:  Lahontan Dam - Lahontan Dam was completed in 1915. It is an earth and gravel fill structure 162 feet high and 1,500 feet long. The storage capacity of Lahontan Reservoir at the spillway level is 289,721 acre-feet and with the addition of 20-inch flashboards will hold 312,984 acre feet. The dam is the only major reservoir on the Carson River and stores water diverted from the Truckee River and the natural flows of the Carson River
Facility:  Carson River Diversion Dam - The Diversion Dam is located on the Carson River approximately 5 miles below Lahontan Dam. It is a contrete structure 23 feet high and 241 feet long. It is used to divert water into two main canals for irrigation of lands in the Carson Division of the Newlands Project.
Related Links