Phoenix Area Office - Programs & Activities
Recreation Activities
The Phoenix Area Office does not directly manage any recreational facilities on its projects in Arizona , but provides federal oversight of recreational facilities located on its land in order to protect the interests of the American public and ensure availability and accessibility for all people.
The Phoenix Area Office helps fund the replacement of facilities or development of new facilities as part of the Central Arizona Project's construction. We also support development of facilities by local agencies, where possible, to provide quality public recreational opportunities and facilities on Reclamation-owned land surrounding our projects.
---
Special Use Area
In September 2022, all Bureau of Reclamation lands underlying and adjacent to canals, open ditches, and licensed municipal paths over underground facilities of the Salt River Federal Reclamation Project became a Special Use Area in accordance with 43 C.F.R. Part 423, Subpart E. The Special Use Area has the following additional prohibitions, which vary from the standard Rules of Conduct specified in 43 C.F.R. Part 423, Subpart C:
No Fires.
No Camping. (Camping means "erecting a tent or shelter; preparing a sleeping bag or other bedding material for use; parking a motor vehicle, motor home, or trailer; or mooring a vessel for the intended or apparent purpose of overnight occupancy." 43 C.F.R. § 423.2.)
A map of the Reclamation lands included within the Special Use Area appears below.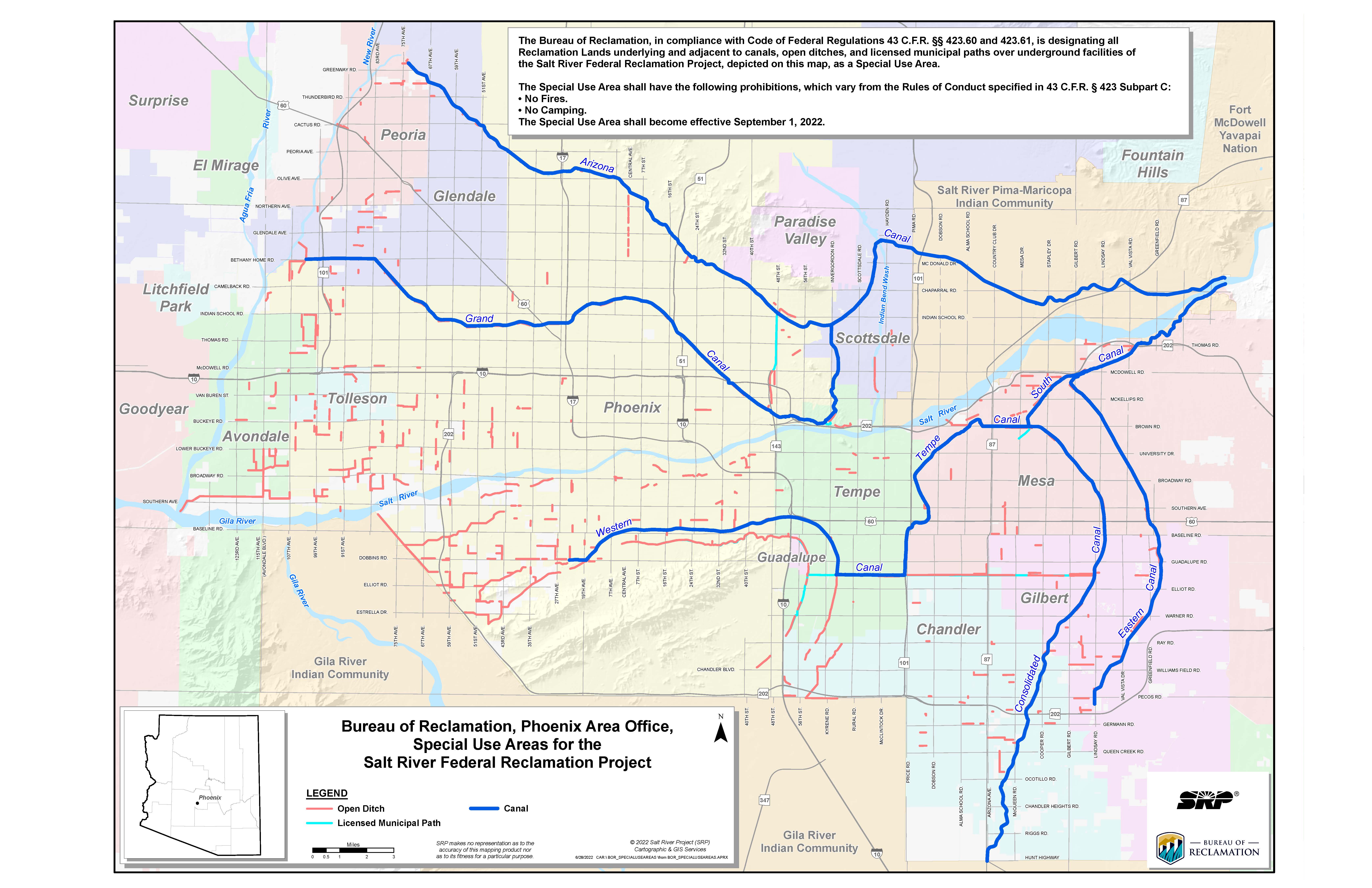 ---
Phoenix Area Office Contact::
Mary Reece
Planning Program Manager
623-773-6270
mreece@usbr.gov
http://www.recreation.gov
Last Updated: 7/26/23