Central Yavapai Highlands Water Resource Management Study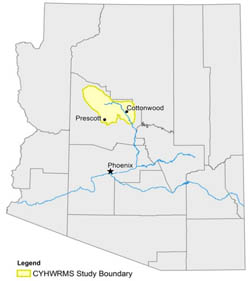 Summary:  The Central Yavapai Highlands Water Resources Management Study (CYHWRMS) is an appraisal level special planning study initiated by local communities in Yavapai County to assess current and future water supply and demand, and evaluate alternatives to meet future demand.
The study was accomplished in three major phases: Demand Analysis (Phase I); Water Resource Inventory (potential new supply analysis; Phase II); and Alternative Formulation and Evaluation (Phase III). Based on potential growth and current supplies, Phase I of the study estimates that future unmet water demand in 2050 is approximately 45,000 or approximately 80,000 acre feet per year (AFY) depending on the method of calculation. For the purpose of the study, the increase in population for the entire study area is estimated to be over 390,000 people, from approximately 200,000 people in 2006 to nearly 595,000 in the year 2050.
Phase II identified potential supplies to help meet future demand including surface water, groundwater, storm water, reuse, conservation and other waters both within and outside of the study area.
Alternatives were developed to connect potential water supplies identified in Phase II to the demands identified in Phase I. Thirteen potential water supply alternatives were developed and ten were fully evaluated at an appraisal level. Each of the ten fully evaluated alternatives was analyzed relative to environmental, cost, public perception and legal and institutional issues. Then the alternatives were evaluated against four tests of viability, "acceptability, effectiveness, efficiency and completeness".
The alternative evaluation concluded that each alternative has significant, but not necessarily insurmountable, environmental, legal and perception issues that would need to be addressed in a feasibility investigation or prior to implementation. The cost estimates are generated at an appraisal level, represent a range and are useful for relative comparisons between alternatives.
No single alternative fully meets the 2050 total unmet demand for the study area. However, imported surface water meets nearly all of the demand, except for some outlying areas where distribution is not practical. Therefore, any complete solution will likely involve more than one alternative.
Cost-Share Partners: The study was performed under a federal cost share agreement between the study partners: the U.S. Bureau of Reclamation (Reclamation), Yavapai County Water Advisory Committee (WAC) and Arizona Department of Water Resources (ADWR).
Study Area: The study area is located in central Arizona in a part of Yavapai County that includes the Prescott Active Management Area (PrAMA), and parts of the Big Chino and Verde Valley sub-basins. These areas represent regions of high potential growth and commensurate water demands which are complicated by water supply challenges and environmental and legal issues.
Reports:
Central Yavapai Highlands Water Resources Management Study Appraisal Report
Other Study documents prepared to date are available at:
http://www.yavapai.us/bc-wac/cyhwrms (Central Yavapai Highlands Water Resource Management Study Website)
---
Study Manager:
John Rasmussen
Program Manager - Water Resources
(623) 773-6275
jrasmussen@usbr.gov

Bureau of Reclamation
Phoenix Area Office
6150 W. Thunderbird Road
Glendale AZ, 85306