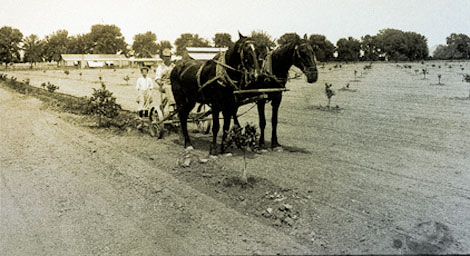 This young orange grove near Camelback Mountain is located on desert soil and receives water from the Arizona Canal. John Wesley Powell's idea to classify lands by their resources was an attempt to ensure that lands with good soil conditions were made available for cultivation. These lands offered a better chance for success by farmers. Land classification eventually became a requirement by the U.S. Reclamation Service (and later the Bureau of Reclamation) for new irrigation projects. (Reclamation photograph)
John Wesley Powell played a key role in the reclamation movement in the later decades of the 19th century.His Report on the Lands of the Arid Region of the United States with a More Detailed Account of the Lands of Utah (1909) arguably identified him as "the Father of Reclamation." But Powell realized that the challenges of attempting to reclaim the West were daunting, as many private irrigation associations such as those in the Salt River Valley had discovered. He understood that the technology of the time limited where reclamation could succeed, that the best agricultural lands were already privately owned, and that there was not sufficient water to supply the ditches already built.
Powell felt that federal intervention was needed for any reclamation effort to succeed, but he also knew that there were other complications. State and territorial laws were as chaotic as the state and territorial boundaries that divided rivers and watersheds. Powell favored reorganizing political units around watershed basins, and these new units, not states or territories, would resolve issues of water sources in rivers flowing across political boundaries. Powell called for classifying Western lands according to their resources, and he conducted a lands classification survey in the late 1880s, but it was never completed. Powell's rising star faded with the end of the survey. What happened? When the irrigation survey began, the fear was that land speculation would run rampant in the hope that land values would rise because of the survey. The solution was for the Interior Department to withdraw western lands from purchase until the survey, which could take years, was completed. Meanwhile, prospects for Western development would languish. In a nutshell, Western water and land interests were fearful that Powell and his ideas would place a moratorium on Western development and reverse a century-long policy of the disposal of the public lands.
Adapted and modified from The Bureau of Reclamation: Origins and Growth to 1945, Volume 1. By William D. Rowley, Bureau of Reclamation, U.S. Department of the Interior, Denver, 2006.
Worster, Donald. A River Running West: the Life of John Wesley Powell. New York: Oxford University Press, 2001.
U.S. Congress, House Committee on Appropriations. J.W. Powell, Report on the Lands of the Arid Region of the United States, with a More Detailed Account of the Lands of Utah. With Maps Ex. D No. 73. 45th Congress, 2nd Session.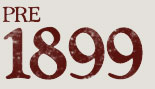 PROJECTS
The Good Ol' Days: Development of the Salt River Valley
WATER USES
Trying to Manage the Water
LEGISLATION
Too Much Water, or Not Enough: Arizona Territory, Early Irrigation Projects, And Politics
ENVIRONMENT
Arizona's First Farmers
PEOPLE
John Wesley Powell and Reclaiming the West