Training and Guidance
The Asset Management Division is updating its Training site. We appreciate your patience during this phase. Thank you.
The Asset Management Division offers a variety of training including water management workshops, review of operations and maintenance (O&M) facility review seminars, and more. Essential information on future training events are notated on this site, and also includes guidance materials and resources on O&M Bulletins, safety posters, and more.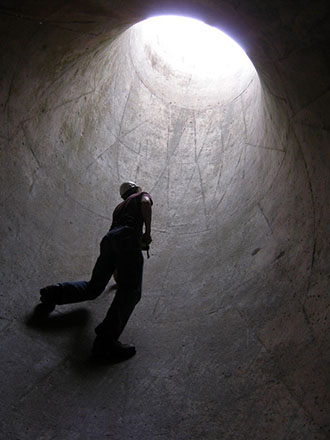 Bureau of Reclamation employee inspecting the Inverted Bell Spillway at Cheney Dam, Kansas
Dam Training:
O&M Training Opportunities:
Water Management Workshop
The Water Management Workshop (WMW) is a 4-day training seminar for supervisors, managers, water masters, and others responsible for or associated with the O&M of water systems. The workshop is held when field activities are generally at a minimum for the convenience of operating personnel. The workshop, sponsored by the Bureau of Reclamation, has been held since 1961. Participants spend their time attending sessions in a virtual classroom setting. The objective of the workshop is the self-improvement of personnel who are directly responsible for the technical details of maintaining O&M water systems.


Photo of Sacramento River below Shasta Dam.

2022 Water Management Workshop - Please join us for the virtual 2022 Water Management Workshop, held February 22-24, 2022. Please see below for further guidance. The workshop can be up to three hourlong sessions in the morning and afternoon. For Reclamation employees, this workshop will count for annual training requirements.


---
Review of Operations & Maintenance (RO&M) Workshop
2022 RO&M Workshop - The RO&M Workshop, formerly known as the Associated Facilities Review Workshop, is a 3-day seminar provided annually for Reclamation operation and maintenance (O&M) personnel, inspectors, and water O&M personnel. The first two days consist of classroom training and discussion and the third day will consist of a Question and Answer session. The objective of the seminar is to provide Reclamation employees with the tools they need to be successful in the field. The 2022 RO&M Workshop will be held virtually May 3 - 5.
---
Reclamation Realty & Land Training
2018 Reclamation Realty & Land Training - The Reclamation Realty and Lands training was held April 24-26, 2018 at the Bureau of Land Management (BLM) National Training Center (NTC) in Phoenix, AZ. Reclamation's Policy and Administration's Asset Management Division planned and facilitated the Reclamation-wide training for over 120 Reclamation staff with participation from all of Reclamation's directorates. The objective of the training was to promote communication and collaboration throughout Reclamation while providing new and seasoned Reclamation staff with information and knowledge necessary to address various issues within a vast range of program responsibilities. A few of the areas covered during the training included realty tasks, use authorizations, lands records, geographic information systems, law enforcement, project management, title transfer, and land withdrawals. The training also included regional breakout sessions to facilitate intraregional coordination.


Click on the link below to access the 2018 Realty and Lands Training Agenda.
---
Land Resources:
O&M Cost Index:
Other Reclamation Manuals You May Want:
Contact:
Please note workshop attendance is typically reserved for Bureau of Reclamation managing and operating partners. Inquiries on upcoming workshops please contact:
Ginger Dill, gdill@usbr.gov, 303-445-2703
TOP OF PAGE
---
For site maintenance contact: Webmaster
Last Updated: