Black Canyon Parks
Calendar | Reservation Form | Rules and Regulations | Season Pass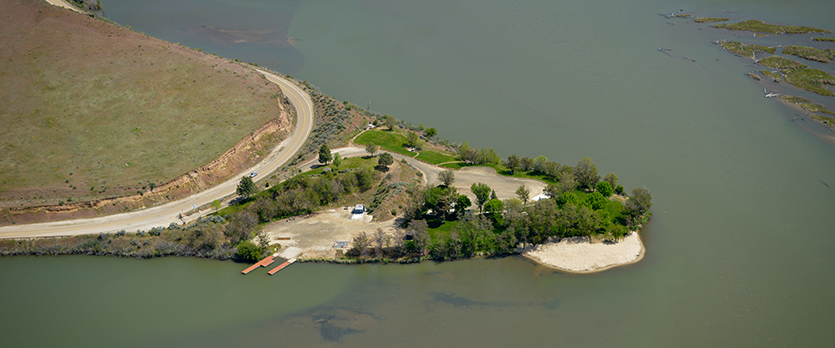 The four parks and campground are located near the Payette River, off State Highway 52, approximately 5 miles northeast of Emmett. They are Black Canyon Park, Wild Rose Park, Cobblestone Park, Triangle Park, and Montour Campground.
Reservations are first-come, first serve. The season started February 4, 2019. Check the calendar for available dates. The calendar is updated each Wednesday by 3 p.m. MT. Reservations are payable by check, money order, and cash. Checks are to be made out to the Bureau of Reclamation. Reclamation does not accept debit or credit cards.
To make a reservation, download the form, print and mail it along with the non-refundable $125 reservation fee to:
Bureau of Reclamation
Black Canyon Park
5555 E. Black Canyon Highway
Emmett, Idaho 83617
Park reservations may also be made in-person at the Black Canyon Park office between the hours of 6 a.m. to 4:00 p.m. Monday through Thursday during the off-season or Monday through Sunday during the 2019 recreation season of May 10 through Sept. 23. We do not take reservations by phone.
Black Canyon Park is open from 7 a.m. to 9 p.m., and the day-use fee is $5 per vehicle to enter. The park features restrooms, potable water, two boat ramps, which are accessible to people with disabilities, and offers two gazebos that can be reserved for $125 each per day. Season passes for Black Canyon Park are available for $25 and can be renewed for $20 from the park's office. You must swipe your electronic season pass at the card reader each time you enter and exit the park. If you do not swipe your card when you exit the park, you will need to contact Reclamation staff to have it reset.
Wild Rose Park offers two gazebos for large events and are reserved together for $125 a day. The entire park cannot be reserved. Restrooms and potable water are available.
Cobblestone Park has one shelter that can be reserved for $125 a day. The entire park cannot be reserved. A restroom and potable water is available.
Triangle Park, located upstream of Black Canyon Park offers day-use and group overnight camping. A boat ramp, which is accessible to people with disabilities, is available. Water and electricity are unavailable at this site. The group overnight camping allows for rental of the entire park for $125 a night. Pets are permitted with the purchase of the group camping rental.
Montour Campground is located in the Montour Wildlife Management Area. The 16 campsites are available on a first-come, first-served basis. It offers overnight camping (limited to 14 days) for $8 per night for a campsite or $3 per night for tent camping on the lawn. Dogs must be on a leash. Potable water, a dump station, and restrooms are available.
Additional Recreation Information >>
Download the Rules and Regulations. A Gem County ordinance prohibits alcohol and pets at all parks unless otherwise stated.
---
Contact
bcparks@usbr.gov
208-365-2682
Black Canyon Park
5555 E. Black Canyon Highway
Emmett, Idaho 83617
Last Updated: 4/1/19