Hoover Dam Police Department - Safeguarding a National Icon

Staying Refreshed -- Beating the Heat at Hoover Dam

If you or someone else is experiencing signs of heat stress, 
dial 911 and/or 702-293-8998, 
or contact the nearest Dam employee.
The temperature at Hoover Dam in the spring and summer months can easily reach over 100 degrees F! It's imperative you keep hydrated by consuming plenty of water. Remember, if you are thirsty, that is a sign of dehydration!
The best defense against heat-related injuries and illnesses is prevention.  Here are some tips: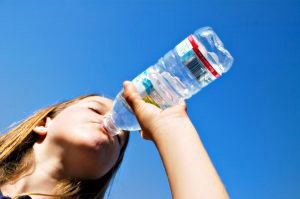 Drink plenty of fluids (nonalcoholic), regardless of your activity level.  Don't wait until you're thirsty to drink.  A sports beverage can replace the salt and minerals you lose in sweat.
Don't drink liquids that contain caffeine, alcohol, or large amounts of sugar -- these actually cause you to lose more bodily fluids. 
Wear lightweight, light-colored, loose fitting clothing. Wear a hat or use an umbrella.
NEVER leave anyone in a closed, parked vehicle.  This includes your pets.
Limit your outdoor activity to morning and evening hours.
Cut down on exercise.  It's nearly a quarter mile walk from the Arizona side of the dam to the Visitor Center so be sure to drink 2-4 glasses of cool, nonalcoholic fluids each hour if you are walking around the site in the heat. 
Try and rest often in shady areas.  Get plenty of rest to allow your natural "cooling system" to work.   Carry water or juice with you and drink continuously even if you are not thirsty.
Avoid too much sunshine.  Use a sunscreen lotion with a high sun protection rating.
Doing too much on a hot day, and spending too much time in the sun can cause heat related illness. 

Remember, drink plenty of water regularly.
The Hoover Dam Police Department hopes your visit is a safe and enjoyable one.  Have fun, but stay cool!!!!
Return to Hoover Dam Police Homepage
Last Updated: 3/12/18