Visit the Dam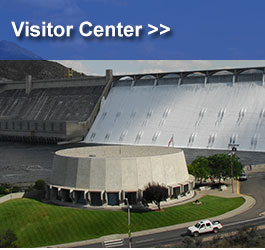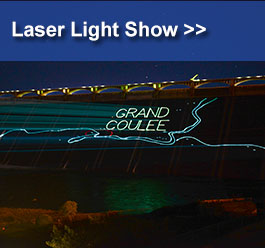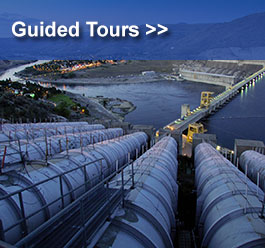 Effective July 28, 2021, masks are now required for all employees, onsite contractors and visitors inside agency workspaces and federal buildings — regardless of vaccination status if the facility is within an area that has substantial or high COVID community transmission. These safety protocols are consistent with the Centers of Disease Control and Prevention updated guidance.
The Grand Coulee Dam Visitor Center is open to the public, and the "One River, Many Voices" laser light has resumed its nightly schedule. The laser light show begins nightly May 29, at 10:00 p.m. through July 31. Beginning in Aug. 1, the laser light show will start at 9:30 p.m., and it will run at 8:30 p.m., beginning Sept. 1 through Sept. 30. Start times are subject to change. Tickets are not required to watch the light show.
The visitor center is fully accessible and features a theatre room and restroom.
New Visitor Center Guidelines
The new hours of operations will be 9:00 a.m. to 5:00 p.m. Pacific Time.
There is a maximum capacity of 60 people inside the visitor center.
Some hands-on exhibits will be temporarily unavailable.
Hand sanitizer stations will be available throughout the center.
The seating in the theater room will be limited.
Brochures and printouts will only be available upon request to minimize hands-on interaction.
New Laser Light Show Guidelines
Hand sanitizer stations will be available outside the visitor center.
Bench seating will be marked appropriately to maintain six feet social distancing.
Park restrooms are open.

Grand Coulee Dam tours will not be conducted this year because of CDC–recommended COVID-19 restrictions. Visitors will be unable to safely maintain social distancing of 6 feet on the tour buses and dam elevator.

Explore the dam, take part in the D3 Geocache Challenge, view the Laser Light Show, and come inside the Visitor Center to experience the hands-on exhibits!

Call (509) 633-9265 for details

This visitor center is fully accessible and features hands-on exhibits, an auditorium, and restrooms.


View Larger Map



---

Contact
Grand Coulee Visitor Center
(509) 633-9265
pninfo@usbr.gov



Last Updated: 7/30/21