Camping
Locations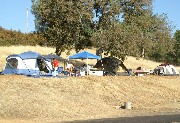 New Melones Lake offers year-round camping at two locations: Glory Hole Recreation Area, located approximately 6 miles (9 km) south of Angels Camp, California, and Tuttletown Recreation Area, located approximately 8 miles (13 km) north of Sonora, California.
Both campgrounds offer camping for tents and recreational vehicles. Walk-in campsites ae also available in both recreation areas.
Tuttletown Recreation Area has three campground areas: Acorn, Manzanita and Chamise. Tuttletown also has two group campgrounds: Fiddleneck and Oak Knoll. Glory Hole Recreation Area has two campground areas: Big Oak and Ironhorse.
Campsites are available by reservation through Recreation.gov and on a first-come, first serve basis. To make a reservation visit www.recreation.gov or call 1-877-444-6777.
Environment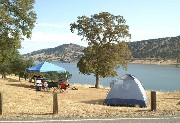 New Melones Lake is located in the western foothills of the Sierra Nevada Mountains at approximately 1,100 elevation. The area is composed of open grasslands, chaparral and oak woodlands. Campers should anticipate that during July and August, daytime temperatures can reach to over 104 °F (40 °C). Most campsites offer some shade, however, some sites have no shade at all. Self-supporting shade shelters are recommended. Refer to the pictures in our Photo Gallery to get an idea of what the campsites are like. During your visit, you may see wildlife such as deer, squirrels, raccoons, osprey and bald eagles. On rare occasions, rattlesnakes, mountain lions and bears have also been seen in this area. See the Wildlife section for precautions.
New Melones Lake is a multi-purpose reservoir operated by the Bureau of Reclamation. It provides water storage for irrigation, flood control, hydroelectric power and recreational opportunities. Depending on the winter rainfall and snowpack in the Sierra Mountains, the lake elevation varies. Campground maps only represent New Melones at full capacity. Water levels vary from year to year, and month to month. Please contact the Administration Office at (209) 536-9094 to ask about lake levels and which sites are relatively closer to the water than others.
Park Visiting Hours
For your safety and security, the access roads to the Tuttletown Recreation Area and Glory Hole Recreation Area are closed at night. Gate closures times vary by season as shown below:
Park Visiting Hours

| Dates | Hours |
| --- | --- |
| April 1 – Memorial Day (May) | Close 10 p.m.; open 4 a.m. |
| Memorial Day (May) – Labor Day (September) | Close 11 p.m.; open 4 a.m. |
| Labor Day (September) – September 30 | Close 10 p.m.; open 4 a.m. |
| October 1 – March 31 | Close 9 p.m.; open 4 a.m. |
Arriving campers should plan accordingly and be aware that during these hours there is no access to the campground. Quiet hours are 10 p.m. to 8 a.m. Generators are not allowed to run during quiet hours. There are no hook-ups for RVs.
Fees
Campsite Fees
Standard Campsite - $22 per night/site max 8 people, 2 vehicles
Walk-in Campsite - $18 per night/site, max 4 people, 1 vehicle
Camper's overflow vehicle/visitor fee
Camper's overflow vehicle/visitor fee of $8 per day (includes the $8 day-use fee).
RV dump station use
$8 for registered campers
$16 for all other users
Group campgrounds
Oak Knoll - $125 per night, 20-50 people, max 10 vehicles
Fiddleneck - $150 per night, 30-60 people, max 12 vehicles
Campers that possess an Interagency Senior Pass or Interagency Access Pass receive a 50% discount on camping fees except for the group campgrounds. For more information on the federal passport program, visit the USGS website at: http://store.usgs.gov/pass/
Most campsites are available by reservation by calling: 1-877-444-6777 or visiting www.recreation.gov
Reservations

Reservations are accepted year round through Recreation.gov. You may make a reservation over the phone at: 1-877-444-6777 or over the internet at: www.recreation.gov. To make a reservation, users should ask to search for campsites in "Glory Hole" or "Tuttletown" Recreation Area. New Melones does not accept reservations on site.
For standard and walk-in campsites, reservations must be made at least four days in advance of your arrival date, and can be made up to six months in advance.
For group campground and picnic areas, reservations must be made at least four days in advance of your arrival date, and can be made up to one year in advance.
Check-in time is 3 p.m. Check-out time is 2 p.m.
Campers with reservations can proceed directly to their campsite upon entering the park.
First-Come, First-Serve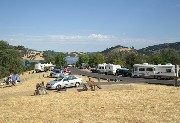 If you are arriving without a Recreation.gov reservation, you should first proceed to the camp registration station or if available contact a campground host. Sites that are reserved or are presently occupied will have tags displayed on the site post. If you are planning to stay longer than two days, to guarantee your site, you will need to make a reservation through Recreation.gov.
After you pick up a fee envelope from the camp registration station, locate a vacant site, complete the information on the envelope and receipt, and deposit the envelope with payment in the iron box at the registration station. Payment can be made by cash (U.S. dollars) or personal check (made out to "NRRS"). Make sure to display the receipt to let other campers know that you are occupying that campsite.
Parking and Vehicles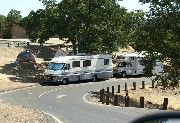 Each campsite has a limit on the number of vehicles that are permitted (see Rules below). Vehicles must remain on paved pads and parking areas. Two vehicles are permitted per standard campsite and one vehicle per walk-in campsite. Excess vehicles, boat trailers etc. can be parked in any day use area overnight for an $8 overflow vehicle charge. A Camp Host or Park Ranger can help you find an overflow parking area.
CAMPSITE PARKING VARIES IN LENGTH. Most campsites are not level. Some campsites have level parking pads. Information on campsite parking length can be found on the Recreation.gov website.
For your safety, enjoyment, and courtesy for other campers, please comply with campground rules and regulations.
Regular campsites are limited to two vehicles, eight people.
Walk-in campsites are limited to one vehicle, four people.
Camping is limited to 14 days in a 30-day period.
Payment of fees is required within 30 minutes of arrival.
Quiet hours are from 10 p.m. until 8 a.m. During quiet hours, generators, music or loud noise is prohibited.
Excessive noise at any time is prohibited.
Campfires are permitted within the fire rings provided at each site.
Campfires must be attended at all times and extinguished completely before leaving.
All pets must be on a maximum six-foot (1.8 m) leash at all times.
Leaving your pets unattended is not permitted.
Firearms (including bb guns), fireworks and explosives are not permitted.
Campers may collect only dead and down wood for campfires.
Other rules are published in 43 CFR, Part 423. (Complete copy of the CFR regulations).
Please note that in addition to these rules, all Federal, State and County laws and regulations apply.
Services/Amenities
NEW MELONES LAKE DOES NOT OFFER HOOK-UPS FOR RECREATIONAL VEHICLES. Campers interested in full service sites should contact the Tuolumne or Calaveras County Visitor's Bureau for more information.
Each campsite has the following amenities: paved parking, a BBQ grill/fire ring, picnic table, and tent site.
Each campground loop has a restroom, some but not all restrooms have showers (coin operated). Drinking water, trash containers, and recycling containers are also nearby.
Tuttletown Recreation Area has a recreational vehicle dump station located near the entrance to the Fiddleneck Group Campground. The recreational vehicle dump station in Glory Hole Recreation Area is located across the road from the Tower Climb trail head parking lot.
There is no food service in Tuttletown Recreation Area. In Glory Hole Recreation Area, New Melones Lake Marina offers camper supplies, snacks, and food.
Summer Programs
Throughout the year, New Melones Lake Rangers offer weekend programs for you and your family to enjoy. Most programs take place at the Ironhorse Campground Amphitheater (located near site 1). Learn about wildlife, gold miners, flora & fauna, local culture & history, and the stars. Look for signs posted advertising the programs. Junior Ranger programs are also offered, by request, for children 5 years and older.
Campground Hosts
Each recreation area has on-site volunteer campground hosts year round. They are there to provide you with assistance in having a safe and enjoyable camping experience at New Melones Lake. They can offer suggestions for best places to fish, help with campsite registration, or provide you maps and information. For information on becoming a campground host at New Melones Lake, see our Volunteering section.
Emergencies
In case of emergency dial 9-1-1.
If available, contact a campground host or park ranger.
Pay phones are located at the Tuttletown Recreation Area entrance station, the Lupine Day Use Area, the Glory Hole Recreation Area entrance station, the New Melones Lake Marina, and the Carson Creek trailhead parking (at the turnoff to the Angels Creek boat launch).
Note: Documents in Portable Document Format (PDF) require Adobe Acrobat Reader 5.0 or higher to view, download Adobe Acrobat Reader
Last Updated: 7/30/20