New Melones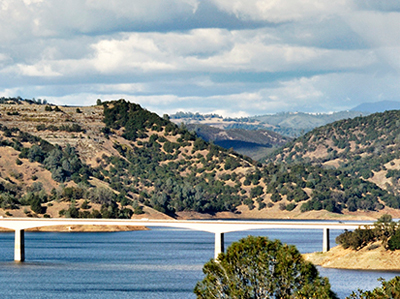 New Melones is part of Reclamation's Central Valley Project. It is located off of Highway 49, some 8 miles north of Sonora and 6 miles south of Angels Camp, in the Mother Lode.
Each year, approximately 600,000 visitors enjoy New Melones' numerous recreational opportunities. Facilities include day use areas; boat launch ramps; more than 300 campsites; hiking, biking and equestrian trails; a visitor center and museum; and abundant water-based recreation.
Reservoir Conditions
Lake conditions vary seasonally at New Melones Lake depending on weather and annual rainfall. Please see the following link for the most up-to-date lake condition information: http://cdec.water.ca.gov/cgi-progs/staMeta?station_id=NMS
Help Us Protect Our Historic Resources
Visitors are asked to help protect historic resources by not handling, removing or destroying any artifacts or ruins along the lake bed. These sites and artifacts are protected by federal and state laws that prohibit disturbing the sites in any way. In addition, the use of metal detectors is not allowed on Reclamation lands per 43 CFR 423.29(f). Please report the finding or destruction/removal of any ruins or artifacts to the New Melones Administration Office at 209-536-9094.
Recreational Interests
Reservations and Recreational Information
Last Updated: 2/14/18