Lewis and Clark: Pick-Sloan Missouri River Basin Project Goals
Lewis and Clark: Pick-Sloan Missouri River Basin Project Goals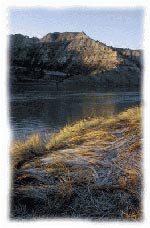 The Upper Missouri River in Montana, part of the Pick-Sloan project area. Photo by Wayne Mumford
It has been nearly 50 years since the Pick-Sloan Missouri River Basin Program began. A review of its original goals shows that some have been realized or surpassed and other have not met their projections.
The Pick-Sloan Missouri River Basin Program was one of the most comprehensive plans ever created for the development and management of a basin's water resources.
Goals for the Pick-Sloan
Missouri River Basin Project
Goal
2000
Storage Capacity
41 million acre feet
>73.4 million acre feet
Hydropower Generation
758 megawatts
2,801 megawatts
Flood Control
-
$25 billion
Recreation
Incidental
60,000,900 visitor hours per year
Navigation
20 million tons/year
1.8 million tons per year
Irrigation
5 million acres
>600,000 acres
The plan initially intended that 95 dams with 17 hydropower plants be constructed along with facilities for irrigating about five million acres of land.
These would provide multiple benefits for municipal and industrial water supply, irrigation, hydroelectric power, flood control, navigation, sediment abatement, fish and wildlife enhancement, recreation and pollution control. Irrigation, hydropower, flood control and navigation are the authorized functions.
The investment made to the program thus far is $5.5 billion, with $1.2 billion of which has been used for mainstem dam construction including Fort Peck Dam in Montana, Garrison Dam in North Dakota, and Oahe, Big Bend, Fort Randall and Gavins Point Dams in South Dakota.
Last Updated: 9/29/17