Marble Beach Bank Stabilization
Marble Beach Bank Stabilization Project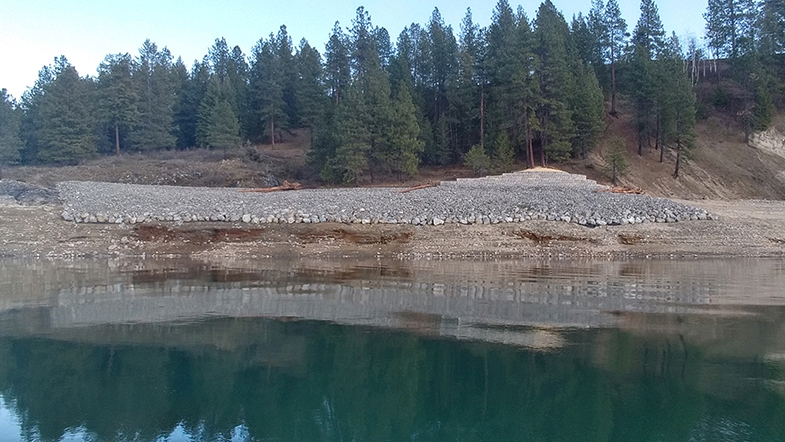 The Marble Beach Bank Stabilization Project was successfully completed in April 2020. This project stabilizes the shoreline, halts bank erosion, and reduces the potential for exposure and loss of sensitive resources through the installation of a retaining wall using concrete blocks and surface-treated riprap.
In October 2018, the Bureau of Reclamation issued the final Environmental Assessment (EA) and Finding of No Significant Impact (FONSI) for a bank stabilization project at Marble Beach on Lake Roosevelt in Stevens County, Washington. Work began in late summer of 2019.
The final EA analyzed two actions: the Proposed Action (implementing the project, as described above) and a No Action alternative (non-implementation). Reclamation selected the proposed action for implementation. The EA and FONSI were prepared in accordance with the National Environmental Policy Act.
---
Contact
Rebecca Thompson
Project Manager
(208) 378-6214
rthompson@usbr.gov
Bureau of Reclamation
1150 North Curtis Road, Suite 100
Boise, Idaho 83706-1234
Shawna Castle
Natural Resource Specialist
(208) 378-5268
scastle@usbr.gov
Bureau of Reclamation
1150 North Curtis Road, Suite 100
Boise, Idaho 83706-1234
Last Updated: 9/26/23